General Info
There is something always new to see and discover even though our little mill has not changed much over the years.



Amenities:

Parking and Public Restrooms.

Free admission.
History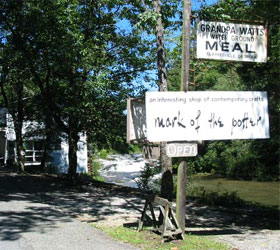 Several mills have lined the Soque river (pronounced "sew-quee") since the early 1800s for the milling of timber. A few mills have been built on this site, the first having been built in 1821 by Joseph Hill for the production of cornmeal. The Hills mill ceased production during the 1920s.

In 1928, Robert Watts, and his father, Allen "Grandpa" Watts purchased and reopened the mill, and opened a dry goods store across the road. Robert's wife, Letie, began to feed the trout that congregated at the bottom of the shoals to take advantage of the cornmeal that spilled from the mill.

In 1930, the Watts' decided to build a new mill. The foundation for the Hills' mill was used to support the generator house. The new mill ground corn for farmers and sold meal to the public. Even back then, Grandpa Watts' Mill was a favorite stop for travelers en route from Atlanta to the lakes.

Sadly, in the mid-1960s, a flood crested the banks of the Soque and ruined the machinery. The mill ceased operations and closed.
In 1968, John and Glen LaRowe "moved into" the Old Watts' Mill to settle down in North Georgia. After a gigantic renovation, John and Glen reopened the mill as a pottery shop and their home in the Spring of 1969.

The name "Mark of the Potter" was the outgrowth of careful thought and vision. Over 30 years later, the name still symbolizes the finest in handmade pottery, each original piece carrying the individual "mark," seal, or signature of each craft person. Mark of the Potter is now the oldest craft shop in Georgia.
Phone - Address & Website
Phone:

(706) 947-3440

Address:

9982 Hwy 197 N., Clarkesville Georgia 30523


Directions from Atlanta:

Take 85 N to 985 N, continue to 365 N toward Gainesville. Turn left off the Clarkesville/ Mt. Airy Exit onto Hwy 197 N. Go through downtown Clarkesville on Hwy 197/ Historic Hwy 441 N. Turn left onto Scenic Hwy 197 North. Go exactly 10 miles and Mark of the Potter will be on your right! Mark of the Potter Website
Loading

Print a NE Georgia Mountains Travel Region Map

NE Georgia Mountains

Festivals & Events

Free Indoor Activities


Free Outdoor Activities

Activities $5 & Under

Tourist Centers

Travel Region Info