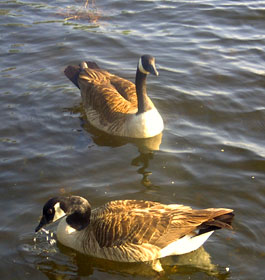 Also known as Rum Creek, it is a 3,600-acre Georgia Power Co. reservoir located 15 miles north of Macon. Smaller crowds, an undeveloped shoreline, beautiful scenery and abundant wildlife are the lakes main attractions.

The 3,600-acre lake and surrounding uplands are maintained in cooperation with the Georgia Department of Natural Resources. There are no private cabins, docks, marinas, beaches or commercial areas, as there are at most other Georgia Power lakes. Limited hunting and fishing are allowed. Lake Juliette is strictly a fishing lake. Boats with engines greater than 25 horsepower are prohibited, as are water skiing, aquaplaning and such personal water craft as jet skis.

Angling prospects are compiled by fisheries biologists and are based on sampling efforts of the Georgia Department of Natural Resources (DNR), knowledge of past fishing trends, angling experience and information provided by anglers and marina owners. For more info, contact Wildlife Resources Division Fisheries office at 478-825-6151.



Free admission.

A small parking fee is required for day use, and to use the boat ramp at the Dames Ferry boat ramp off of Hwy. 87. Dept. of Natural Resources prohibits use of outboard motors greater than 25 hp on the lake. Anglers can use their bass boat and trolling motor.
Best Fishing:

Black Crappie, Bluegill, Channel Catfish, Largemouth Bass, Redbreast Sunfish, Spotted Bass, Striped Bass, Redear Sunfish, White Crappie & Yellow Perch
Largemouth Bass

- Expect largemouth fishing comparable to recent years. Average bass size will be 12 to 20-inch size range, but don't be surprised by some trophy bass in the 12 to 16-pound range. There are no minimum size limits on largemouth bass.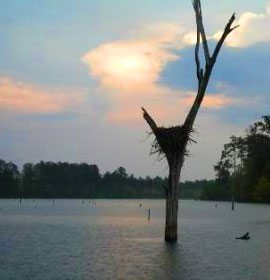 Technique

- Consider switching to a lighter less visible line because of the high water clarity. Fish underwater humps on the main lake with soft-plastic jerkbaits, Carolina-rigged plastic worms or lipped deep-diving crankbaits. Try popping top-water plugs on humps and points on the lower lake early in the morning and late in the day. Pitch a watermelon worm fished 30 inches behind a split shot or 1/8-ounce bullet weight to pockets in the vegetation.



Target

- In the spring, bass spawn in shallow water behind the standing timber on the upper half of the lake. Fish points and humps in the timber on the upper lake. Target the edges of aquatic plant beds where bass tend to concentrate. Expect good catches off points, creek channels and other deep-water structure in the middle portions of the lake in the summer and winter.



Striped bass

- Stripers are stocked annually at relatively low rates, and thanks to cool water temps during summer, a strong fishery has developed. In recent years anglers have caught trophy-size fish at 40-plus pounds. The average size striper is less than 5 pounds.

Technique

- Try trolling creek channels during cooler months, moving to cooler depths located in the main lake during summer. Drifting or fishing on the bottom with live or cut shad has produced some larger catches.

Target

- Concentrate efforts near the pump discharge located just above the dam when Georgia Power pumps water into the reservoir from the Ocmulgee River. Target the timber topped at 35-foot depths off the dam. Look for stripers feeding on the flats in the upper end in the springtime.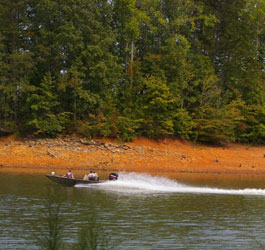 Crappie

populations are considered fair, but average catch sizes are often good. The majority of the catch will be in the 8 to 12-inch size range with some fish over 2 pounds.

Technique

- Most effective during the spring and early summer are light colored jigs fished in the upper end of the lake, though both natural and artificial baits are effective. Small minnows hooked through the back or lips using long-shanked small hooks are good live bait. Trolling with crappie jigs, Triple Ripples or Hal-flys, and casting small crank baits also is productive.



Target

- One of the best places is the area around the Holly Grove boat ramp. During spring, concentrate in the upper ends of coves. At full pool, boats can run along the bank "inside" the timber. Trolling with crappie jigs, Triple Ripples or Hal-flys, and casting small crankbaits around submerged stumps and logs is generally productive for spawning crappie. When the water warms in the summertime, target deeper areas of submerged timber, deep brush in coves, or around deepwater structure.
Bream

- Juliette is one of the best lakes in the area for redear sunfish where large numbers are typical in the spring. Sizes will average from 6 to 9-inches with some fish greater than 10 inches. Bluegill suffer from stunting and only the occasional hand-sized fish is caught.



Technique

- Bluegill, redbreast and redear sunfish can be caught with cane poles or spinning outfits rigged with small hooks, bobbers and split shot using worms or crickets fished at various depths, including the bottom. Fly rods are effective in spring, summer and fall with wet and dry flies. Slowly retrieved small artificial lures such as Beetle Spins Rooster Tails or Shysters also are effective.

Target

- In spring concentrate on spawning beds in shallow, weedy areas.



Yellow Perch

- Significant numbers offer a unique fishing opportunity. The majority of fish will average 6-8 inches, with some individuals up to a pound.



Technique

- Yellow perch can be caught on live or artificial baits. The preferred bait is worms fished on the bottom with light spinning tackle. Yellow perch also can be caught with small minnows.

Target

- Yellow perch can be caught around aquatic vegetation and the submerged branches of fallen trees and other brush in the water.
Open

- Call for hours and dates



Phone

: Georgia Power Company at 404-954-4040 -

Address:

Dames Ferry Park, 9546 Hwy. 87, Juliette, Georgia 31046 - GA Power Lake Juliett Website

Check These Out:


Georgia Lakes

WMA Public Fishing Areas

GA Fishing Lakes

Georgia Rivers & Map

GA Lakes & Rivers Map

Water Safety

Fishing Trip Checklist


Print a Travel Region Map

Historic Heartland Fun:

Festivals & Events

Free Indoor Activities

Free Outdoor Activities

Tourist Centers

Travel Region Info