General Info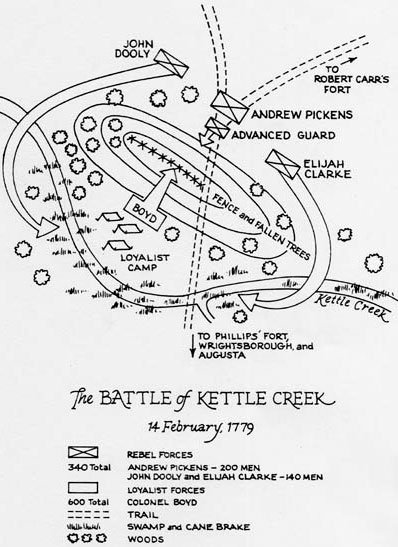 Kettle Creek flows into the Little River near the Tyrone community in Wilkes County. It likely takes its name from a local fish trap, called a kittle.

During the American Revolution (1775-83) several incidents occurred along its banks. The South Carolina militia established a station there in 1776; an Indian attack on Robert McNabb's Fort in November 1778 resulted in McNabb's death; and in the last days of the Revolution, the rebel partisan and horse thief Josiah Dunn met his death in a skirmish nearby.

The most important event to occur at Kettle Creek, however, took place on Sunday, February 14, 1779. On that morning 600 American supporters of the British cause, popularly known as Loyalists or Tories, encamped atop a hill in a bend of the creek. They were following an established trail to the nearby Quaker settlement of Wrightsborough en route to Augusta. Aside from the defensive qualities of the position, the hill offered the new arrivals food in the form of cattle penned there.



Free admission.
Amenities
Parking
Hours of Operation
Open daily
Contact & Address
Phone

: 706-678-2013 -

Address

: 44 Warhill Rd., Washington Georgia

Classic South Georgia Travel Region Printable Map

Classic South Georgia:

Festivals & Events

Free Indoor Activities

Fun Activities $5 & Under

Tourist Centers

Travel Region Info