Georgia's Classic South Travel Region Cities Map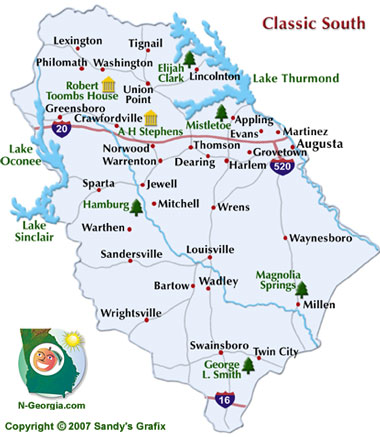 Classic South Travel Region cities include: Appling, Augusta, Bartow, Blythe, Crawfordville, Dearing, Evans, Gibson, Greensboro, Grovetown, Harlem, Jewell, Lexington, Lincolnton, Louisville, Martinez, Millen, Mitchell, Norwood, Penfield, Philomath, Sandersville, Swainsboro, Sparta, Thomson, Tignail, Twin City, Union Point, Waqley, Warrenton, Warthen, Washington, Waynesboro, White Plains, Wrens and Wrightsville
Explore State Parks and Historic Sites - Elijah Clark State Park, George L Smith State Park, Hamburg State Park, Magnolia Springs State Park, Mistletoe State Park, A. H. Stephens State Park and Historic Site and Robert Toombs House Historic Site
Enjoy Festivals, Fairs and Events - See a lists of festivals, fairs, holiday, free and special events. Contact numbers for times, fees, event description, and other information included.
Visit Fascinating Museums and Art Galleries - There's a variety of museums including the Augusta Museum of History, Brown House Museum, Grovetown Museum, Laurel and Hardy Museum, Meadow Garden House Museum, Morris Museum of Art, US Army Signal Corps Museum, Washington Historical Museum are featured here.
Cool off at Sparkling Fishing Lakes - Featuring the A. H. Stephens State Park Lake, George L. Smith Park Lake, Magnolia Springs State Park Lake and McDuffie County Public Fishing Area.
Free Indoor Things To Do - See plenty of Free fun indoor activities in this travel region include fine arts centers and galleries, museums, historic sites and indoor walking tours.
Free Things To Do Outdoors - Free fun outdoor activities in this travel region include the Swamp Nature Park, Bird Rescue Refuges, lakes, parks, historic sites, and outdoor walking and driving Tours.
Great Things To Do for $5 and Under - There are plenty of fun indoor and outdoor activities in the Georgia Classic South travel region for all ages. Many of these activities are cultural and great for family and groups.
Georgia's Classic South Travel Region Tourist Centers - Looking for information for your trip or move to Georgia? These local Chambers of Commerce, Welcome Centers, Convention and Visitor Bureaus, and Visitor Centers can send information and maps right to your doorstep.


Classic South GA Travel Region Printable Map

Check out Georgia's 9 Travel Regions Info