This small wooden church was built for interdenominational worship by the wealthy and powerful members of the Jekyll Island Club. It was added to the National Register of Historic Places in 1971.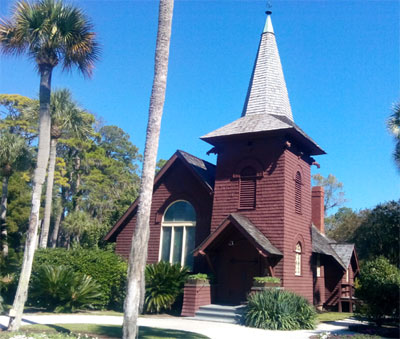 Centrally located in the historic district next to Cherokee Cottage, Faith Chapel is the second interdenominational chapel built by the Jekyll Island Club. It was completed for the Club's 1904 season. The structure is that of an early colonial meetinghouse with decorative elements derived from the Gothic style.

At the east end of the chapel, behind the altar, is the beautiful stained glass window-Adoration of the Christ Child-created by Maitland Armstrong and his daughter, Helen. The window was installed as a memorial to Joseph Stickney, a charter member of the Jekyll Island Club.

At the west end of the chapel is a magnificent, signed example of the work of Louis Comfort Tiffany (Notice the signature in the lower right hand corner.). This window was installed by the Jekyll Island Club and dedicated in 1921 to Frederick Gilbert Bourne, who had served as the club's fourth president.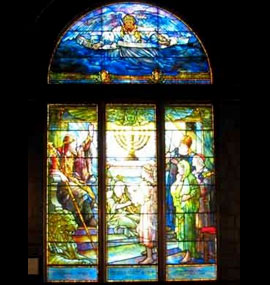 Jekyll Island is a small barrier island on the southeast coast of Georgia. It was purchased in 1886 by a group of wealthy industrialists (including J.P. Morgan, William K. Vanderbilt, William Rockefeller, and Marshall Field) and developed into the Jekyll Island Club, a private winter retreat. A clubhouse was completed in 1888, and members built 'cottages' the size of mansions nearby.

With all the growth on the island, the members needed a place to worship. A chapel was built, but quickly outgrown; Faith Chapel was completed in time for the 1904 resort season.

The chapel's Gothic-influenced design, exterior gargoyles, luxurious carpeting, and rich stained wood interior are enough to impress. But the west wall, on the chapel's front, features a rare treasure. The stained glass window on this wall was designed, installed, and signed by Louis Comfort Tiffany, reportedly one of only five such pieces known to exist.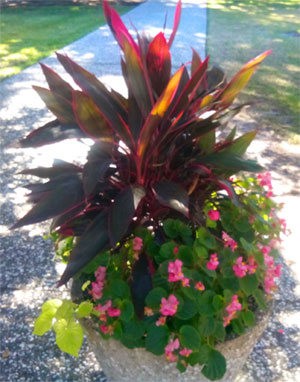 Clearly, the early members of the Club intended to spare no expense when building their place of worship. The exterior of the church is a provincial Gothic façade complete with gargoyles guarding the entry. Famous for its tidewater red shingle construction and beautifully hand-crafted stained glass (one panel of which is signed by artist Louis C. Tiffany himself), the Faith Chapel serves as an optimal setting for any wedding or christening.

The interior design of the church was specially crafted for the inclusion of electric lighting, which magnificently accentuates the luxurious red carpet, beautiful altarpiece, baptismal font and picturesque stained glass panels.

Faith Chapel was built to minister to the aristocracy with Morgans, Astors, and Rockefellers in attendance, but today it serves the nonsecular needs of the whole island community and visitors.



Open:

Daily at 10am-4 pm everyday except during weddings. $5 admission for tour.

There is a small fee to enter Jekyll Island.





Amenities:

Parking, Public Restrooms, Accessibility for mobility-impaired and party facilities.



Phone:

912-635-4403 -

Address:

1904 Schoolhouse Lane, Jekyll Island, GA 31527


Colonial Coast GA Travel Region Printable Map

GA Coast & Islands Fun:

Festivals & Events

Free Outdoor Activities

Tourist Centers

Travel Region Info