Surrounded by rural countryside and the Chattahoochee National Forest, this 561-acre quiet park in northwest Georgia offers outstanding fishing on 2 stocked lakes.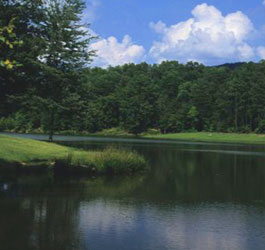 Park Amenities & Activities - Visitors can hike along three miles of lake loop trails and relax in swings while watching for the many bluebirds that live in the park. Access to the scenic 60-mile Pinhoti Trail is only a 1.6-mile hike from the park.



Park is surrounded by rural countryside and the Chattahoochee National Forest

25 tent, RV and trailer campsites

1 pioneer campground

4 cottages - one is dog friendly

picnic shelters

2 playgrounds

2 lakes (51 acres total)

Boardwalk

Handicapped pier

Pedal Boat, Canoe and Kayak Rental

2 boat ramps for electric motors only - private boats allowed, 10 HP motor limit

2 fishing docks

GeoCaching

Hiking – 5 miles of trails, access to 60-mile Pinhoti Trail nearby

Weddings (park approval required)
Campgrounds Info
50 foot + campsites

hold the following equipment: 1 tent, 2 tents, a pop-up trailer, a trailer up to 50'+, or a motorhome up to 50'+. Each site has water, 50 amp electrical service, picnic table, grill, and fire ring. No cable hook-up available. The comfort station has washer/dryer. Maximum 6 people per site. Maximum 2 vehicles per site.
Pioneer Campsite

- This is a primitive, rugged site for groups only. 10 person minimum. Site is located by itself. Site has water but no electricity. Site offers two Adirondacks, picnic table, fire ring, and grills. PIT TOILETS ONLY. Visitors using the Pioneer Site will not be allowed to use bath house in the Tent and Trailer area. No vehicles allowed.
Cottages Info
Two bedroom cottage. Each bedroom has two double beds and one full bath. Sleeps 8. Bed and bath linens provided. Fully equipped kitchen with microwave. Fireplace (wood not provided.) heat/AC. TV. No phone. Covered front and back porch with rockers. Picnic table and grill outside. Has tin roof. Cottage 2 is ADA accessible.
Picnic Shelters
Picnic Shelter #1:

Open-sided covered shelter, located near the lake and 200 yards from the restroom. Shelter is located in a flat, shaded area and features a 16x40 extended deck with tables. All visitors are required to have ParkPass.
Picnic Shelter #2:

Open-sided covered shelter, located near restrooms and parking lots. Shelter has a nice view. All visitors are required to have ParkPass.
Picnic Shelter #3:

Open-sided covered, located near the playground, restrooms, and lake. Shelter is partially shaded. No vehicles are permitted at Picnic Shelter #3. Parking is located on top of hill above shelter; approximately 100 yard walk to shelter. All visitors are required to have ParkPass.
Picnic Shelter #4:

Open-sided covered shelter. Near restrooms and lower lake. Shelter is handicapped accessible. All visitors are required to have parkpass.
Hours and Fees
Park Hours

- 7 am - 10 pm -

$

5 Parking Fee.
Contact, Address Driving Directions & Park Map


Park Phone - 706-857-0826 at 8 am - 5 pm -

Campsite and Cottage Reservations:

1-800-864-7275 -

Address:

2800 "Sloppy" Floyd Lake Rd., Summerville Georgia 30747 -

GPS Coordinates:

N 34.439933 and W -085.337250 -

Located

3 miles SE of Summerville on Sloppy Floyd Lake Rd. via U.S. Hwy 27. Park Facilities Map
Reservations Cancellation Policy

Cancellation of a reservation must be made at least 3 days prior to the date of arrival in order to receive a refund. cancellation/handling fee per reservation will be charged. Changes in arrival date made less than 3 days prior to the scheduled arrival will constitute a cancellation and forfeit of the deposit. 7-14 day Cottage Reservation Guidelines: All cancellations received 30 days in advance will receive deposit refund minus a cancellation fee per facility.

If a customer requests to cancel less then 30 days in advance but before 72 hours of arrival, the customer may request refund in witting to the site. If cottage is rebooked for the time period originally reserved, site will have Customer Service issue a full refund to the customer minus the cancellation fee. If reservation is cancelled within 72 hours of arrival date no refund of the one night deposit will be given. Deposits are required for all reservations. Credit card deposits are posted when the reservation is made.



Check-in - Check-in is between 1 pm and 10 pm and check-out is before 1 pm. Campers must register and present a reservation confirmation before setting up. If you do not arrive on the first night of your stay, you will be counted as a no-show, your reservation will be cancelled, and you will forfeit your deposit.



Reservation Changes

(Changes in arrival dates, transfers, etc.)
You may make one change without a charge, provided a 3-day notice is given. Additional changes will incur a per reservation handling fee.
Loading