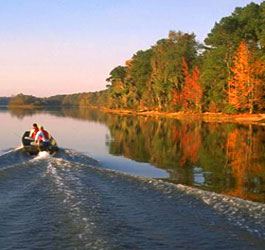 Located at the northern end of 45,000-acre Lake Walter F. George, this 173-acre quiet park offers the perfect setting for those who love water sports. It is adjacent to a natural deep-water marina with an accessible deep-water fishing pier, boat slips and boat ramp. Birders are sure to see herons, egrets and bald eagles.


Park Amenities

- 173 acres

Located in northern end of Lake Walter F. George

43 tent, RV and trailer campsites

cable TV hookups

14 cottages - some are dog friendly

pioneer campground

8 efficiency units

1 picnic shelter

1 group shelter that seats 125 people

2 playgrounds

miniature golf (fee)

3/4 mile nature trail

lake marina with 66 boat slips for rent

boat ramp

boat dock

fishing boats for rent

lighted fishing pier

hikers and bird viewers may see herons, egrets and bald eagles wildlife.

Kirbo Interpretive Center

GeoCaching
Campsites with Full Hookups

- 50 foot + campsites hold the following equipment: 1 tent, 2 tents, a pop-up trailer, a trailer up to 50' +, or a motorhome up to 50' +. Each site has water, 30 amp electrical service (limited number of 50 amp sites are first come, first served), cable hookup, picnic table, grill, and fire ring. Comfort stations have washer/dryer. Maximum 6 people per site. Maximum 2 vehicles per site.
Picnic Shelter -

Open-sided covered shelter. Mini golf, & large activity field. Lakefront, shelter has power, water, picnic tables and grills at shelter. Restrooms are not nearby - 1500 feet away. All visitors are required to have parkpass.
Group Shelters

- Enclosed shelter. Known as "Clubhouse". Has heat/air, carpeting, fireplace, and restrooms inside. Full separate kitchen with serving table and steam table, tables and chairs are provided. All visitors are required to have parkpass.
Hours and Fees, Contact, Address, Driving Directions and Map
Park Hours

- 7 am - 10 pm -

$5

Parking Fee

Phone:

229-838-6870 - Sat-Thurs 8 am - 5 pm and Fri 8 am - 10 pm

- Campsite Reservations:

1-800-864-7275

- Address

:

218 Florence Rd, Omaha, GA 31821

-

Located

between Metter and Twin City off GA Hwy 23. Take I-16 Exit #104. Park Facilities Map
Reservations Cancellation Policy

Cancellation of a reservation must be made at least 3 days prior to the date of arrival in order to receive a refund. cancellation/handling fee per reservation will be charged. Changes in arrival date made less than 3 days prior to the scheduled arrival will constitute a cancellation and forfeit of the deposit.



Check-in

- Check-in is between 1 pm and 10 pm and check-out is before 1

pm. Campers must register and present a reservation confirmation before setting up. If you do not arrive on the first night of your stay, you will be counted as a no-show, your reservation will be cancelled, and you will forfeit your deposit.



Reservation Changes

(Changes in arrival dates, transfers, etc.) You may make one change without a charge, provided a 3-day notice is given. Additional changes will incur a per reservation handling fee.
Loading

Check Out:

State Park Waterfalls

State Park Fishing Tackle Loaner, Free Park Pass Loan and Jr. Ranger Gopher Badge Programs

Walk on the Wild Side