Mission and History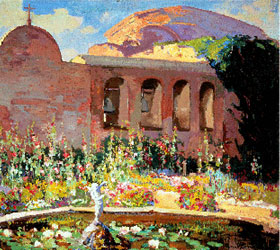 As an integral part of, and partner with, the Muscogee County School District since its inception, the Museum enriches its community and serves its schoolchildren through a full calendar of educational programs as well. The Museum's doors are always open with

free admission

to the public. These efforts combine in the Museum's mission statement "to collect, preserve, research and interpret American art and regional culture for the education, enrichment and enjoyment of a broad and diverse public."

Following the death of noted Columbus industrialist W.C. Bradley in 1947, the present-day 12-acre site of the Columbus Museum, located in the heart of the historic Midtown section of Columbus, was donated by his family to the city of Columbus to be used as a center of culture and education.
The Olmsted Garden on the grounds on the Columbus Museum were designed by Olmsted & Olmsted, sons of the famed landscape architect Frederick Law Olmsted, and their 1928 design follows many of the elder Olmsted's aesthetics with sweeping vistas, rose gardens, dramatic ravines, waterfalls, forest glens and massive plantings for dramatic seasonal effect.

In 1991, a group of committed Museum supporters began to renovate this historic Southern garden and today the restored garden retains much of its original grandeur. Sunset Terrace, the 1912 Italiante home of W.C. Bradley, was transformed into the Columbus Museum of Arts and Crafts, which opened its doors to the public on March 29, 1953.
Columbus Museum Displays
There are many reasons why the Columbus Museum is the premier cultural destination of its region: its prized permanent collection; award-winning original and travelling art and history exhibitions; programs that range in just a month's span from a Black History Month film series to a decorative arts symposium featuring experts from across the country; dedication to its vital role as an educational institution. These facts give life to the Museum's slogan -- always changing, always free.

Our collection of American drawings, paintings, sculpture and decorative arts represents almost 300 years of artistic development. Objects are displayed chronologically by style to show the general evolution of American art from the colonial period to the present. Strengths within the 18th and 19th-century American collection include drawings, mid 19th century landscape and genre paintings, as well as works by important artists associated with Impressionism and other early modern art movements.

The modern and contemporary collections include examples of Abstraction, Social Realism, Surrealism and other important movements. While drawings are a special area of strength, the collection also contains an outstanding group of paintings and sculptures. Artists of regional, as well as national, significance are featured. The Museum's decorative arts collection includes silver, furniture, porcelain, earthenware as well as furniture and glass. An area of recent growth is American Brilliant Period cut glass and Federal furniture.

Travel back in time and trace the development of the Chattahoochee Valley area in Chattahoochee Legacy, the Museum's regional history gallery. View an award-winning film about this history of this area.



Free admission.
Open Hours
Tuesday at Saturday: 10 am - 5 pm - Thursday at 10 am - 8 pm and Sunday at 1-5 pm. Closed Mondays and holidays.
Amenities
Parking, Public Restrooms, Accessibility for mobility-impaired, Food and Party Facilities
Phone & Address
Phone:

706-748-2562 –

Address:

1251 Wynnton Rd., Columbus, GA 31906
Loading

Print a Travel Region Map

Presidential Pathways:

Festivals & Events

Free Outdoor Activities


Free Indoor Activities

Activities $5 & Under

Tourist Centers

Travel Region Info