Georgia Presidential Pathways Travel Region Cities Map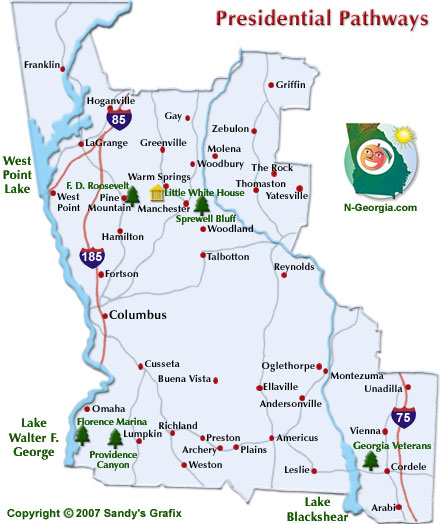 Presidential Pathways Travel Region cities include: Americus, Andersonville, Arabi, Archery, Buena Vista, Columbus, Concord, Cordele, Cusseta, Desoto, Ellaville, Fortson, Franklin, Gay, Greenville, Griffin, Hamilton, Hogansville, LaGrange, Leslie, Lumpkin, Manchester, Midland, Molena, Montezuma, Oglethorpe, Omaha, Pine Mountain, Plains, Preston, Reynolds, Richland, Talbotton, The Rock, Thomaston, Turin, Unadilla, Vienna, Warm Springs, Waverly Hall, West Point, Weston, Williamson, Woodbury, Woodland, Yatesville, and Zebulon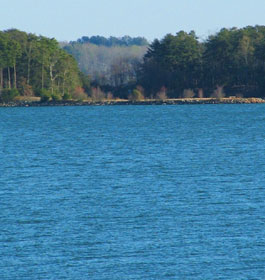 Explore Fun Free Things To Do Indoors - Activities include a fine arts center, museums, historic sites and historical society and more. They are great for family and groups.

Discover Fun FREE Things To Do Outdoors - Activities include wetland habitat, regional fisheries center, aquarium, local park, educational garden, outdoor walking and driving tours and more. They are great for family and groups.

Discover Festivals, Fairs & Events - See list of festivals, fairs, holiday, free and special events. Please call listings contact numbers for times, fees and other information. New event listings are added frequently.
Refresh yourself at Small Fishing Lakes - Check out Big Lazer Creek Public Fishing Area, Carver Park Lake, Cooper Creek Park Lake, Flatrock Park Lake, Franklin D. Roosevelt State Park Lakes and Griffin City Reservoir. Some lakes are public. Others are individually owned. Fishing license is required and some restrictions apply.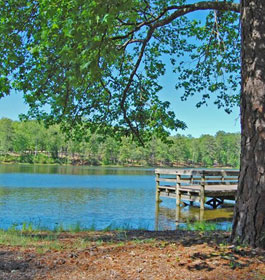 State Parks and Historic Sites - F. D. Roosevelt State Park, Florence Marina State Park, Georgia Veterans State Park, Providence Canyon State Park, Sprewell Bluff State Recreation Area and Little White House State Historic Site

Visit Fascinating Museums and Art Galleries - Featuring a variety including the Columbus Museum, Doc Holiday Museum, Drummer Boy Civil War Museum, FDR's Pools and Warm Springs Museum, Georgia Rural Telephone Museum, Georgia State Cotton Museum, LaGrange Art Museum, National Infantry Museum, Walter F. George Law Museum and more

Presidential Pathways Travel Region Tourist Centers - Want info on where to go, eat and stay? These local Chambers of Commerce, Welcome Centers, Convention and Visitor Bureaus, and Visitor Centers can send info and maps right to your doorstep.


Print a Travel Region Map