Enjoy a pleasant stroll on an elevated boardwalk through a Wetlands, and see the intriguing transition into a Salt water Marsh.
General Info
Look closely and you will notice the differences in the plant and animal life as it changes from fresh water to brackish waters. Then check out the Dock overlooking Cay Creek and enjoy the serenity of your surroundings.

Birders are welcome to enjoy the 15 foot tower in the Wetlands. You may have the opportunity to observe, in their natural habitat, any number of wild animals, insects, snakes, lizards and birds. Plus there are over 100 different species of plants and trees.

You should walk quietly as you very well may see a small timid Alligator trying to hide, a busy Beaver, a Boar rooting in the wetlands, a Deer playing in the Marsh Grass, a Raccoon busy looking for Crayfish, a Possum or a Armadillo just wondering through wetlands looking for some food, just to name a few animals that call Cay Creek their home.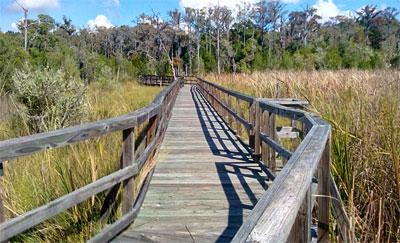 Sit quietly on top of the 15 foot tower and enjoy wild birds. Over 100 different birds have been sited inside the park. During their migrations we would like to think that they use the Cay Creek Park area for stop over.

Cay Creek is open 9am until dusk. It's still a work in progress, but the boardwalk is open with a new birding tower and dock on Cay Creek Boardwalk round trip is just over 7/10ths of a mile.

This is a wonderful place to walk, stretch your legs and enjoy the gorgeous scenery. It's well worth your time to visit.


Opens at 9 am everyday.



Amenities:

Accessibility for mobility-impaired-Wheelchair accesible.

Free admission and parking.





Phone:

912-884-3344 -

Address:

189 Charlie Butler Rd., Midway, Georgia 31320
Loading


Georgia Coast and Islands Travel Region Printable Map
Georgia Coast & Islands:

Festivals & Events

Free Indoor Activities

Free Outdoor Activities

Tourist Centers

Travel Region Info