This 1894 Gothic style jailhouse is a very unique structure. It's been called the 'Hanging Jail' through the years because of its tower casemate. But, no one was actually hanged here.
General Info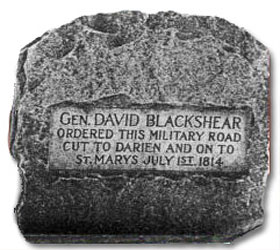 The jailor lived downstairs with his wife and family while the prisoners were confined in the cells upstairs. Today one can visit this historic structure which is listed on the National Registry.

The jail built which stands in park square today, was constructed in September 1894 by Pauly Jail Building Manufacturing Co., of St. Louis, Missouri at the cost of $4,992.00. It was very well constructed of brick, stone, and steel which is why it still stands today. As one of the local noted, "The new jail should be Gothic in design, to illustrate the Goths and Vandals of society who occupy it; with a dash of the Renaissance to point to the "new birth unto righteousness".
He added, "A miser for a jailer would complete the tout ensemble". This description may very well be how local citizens came to call this the "Hanging Jail". However, the only known individual ever to be hanged in Blackshear was Robert Skellie, who on December 27, 1879 murdered his wife with a frying pan. He was hanged the following month on January 23, 1880 on the outskirts of town in an area known as Burney Branch, which is in the vicinity of the Lakeview Country Club.

Through the past three generations it has been known as the old "Hanging Jail". However, this jail has never recorded to have hanged a criminal from its gallows- like tower.

Believed to be the third in a series of jailhouses, this unique Gothic structure of justice was constructed in 1894 after the previous jailhouses burned or were determined insufficient for holding hardened criminals.



Amenities:

Parking and Public Restrooms -

Free admission.
Phone & Address
Phone:

912-449-7044 -

Address:

200 S. Central Ave., Blackshear Georgia 31516
Loading


Colonial Coast GA Travel Region Printable Map

Visit:

NPS Coast and Islands

Georgia Coast - Islands

GA Coast Events

Coast Free Things To Do

GA Coast Fishing Lakes

Georgia Coast Museums

Georgia Coast Shopping

GA Coast and Islands Map & Travel Region