This site is full of fun recreational things to do in your local community. Relax, browse around, and get ready to experience good times in Georgia!

Blue Sky Cabin Rentals offers mountain top and incredible water front log cabins. We are located in the North Georgia Mountains in the towns of Ellijay and Blue Ridge. Enjoy 1 to 5 bedroom fully furnished cabins with game rooms, outdoor fireplaces, fire pits and hot tubs. Most cabins are even pet friendly with no pet fees or deposits. Visit Blue Sky Cabin Rentals website for cabin info.

or

Visit Blue Sky Cabin Rentals facebook page for specials, etc. Call 877-874-6761
WorldMark Points offer great accommodations for those looking to vacation in Georgia as well as nationally. The Wyndham Resort at Fairfield Plantation in Villa Rica, Georgia is included in the Wyndham Club Pass program, so WorldMark timeshare owners may stay at this location as well as 60 other WorldMark resorts at their leisure. Sell My Timeshare Now if you ever decide you'd no longer like to be a timeshare owner.
1890's Day Jamboree

- 5/26 at 6-10pm & 5/27/17 at 9am-10pm
The event features more than 100 food, arts and crafts vendors, live music on multiple stages, music and dance contests, beauty pageants, a parade, classic car show, and a fireworks display Saturday night. Admission is free, and all events are family-friendly. For most residents, the sign that 1890's is approaching is the display of approximately 1,200 Veteran's Memorial Flags along the roads in Ringgold. Veterans, families and admirers come from far and wide to ride through town and honor the veterans of Catoosa County who have served in almost every major American war. Handicapped Accessible event. Pets are welcome.

Free admission and parking.

Phone: 423-933-1212 - Address: 150 Tennessee St, Ringgold, GA 30736
Looking for a job? Start here for information about the GA D.O.L. The DOL can help you with every step of the job search process including: help with your resume, job search resources, interview tips and job fairs. Find a job at a Georgia Job Fair.

Also,

Visit Atlanta Job Staffing Agencies to find the right one near you. Also, see Gwinnett County Job Staffing Agencies In Buford, Lilburn, Duluth, Lawrenceville, Norcross and Suwanee.
We appreciate our viewers and sponsors. Please tell them you found them at N-Georgia.com. They make this website free for you. Stay and Play in GA!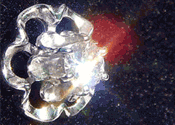 Jewelry on eBay

First Class Residential and Commercial Tile Services