Thanks to its attractive biologically diverse collection of trees, shrubs and plants, the campus was designated an arboretum.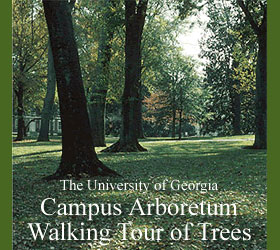 The UGA campus is one of the most beautiful in the United States. Stately, noble trees provide human scale, a sense of place, cooling shade, and tranquility to students, faculty, staff and visitors. To walk this hallowed campus is to sense the pride in its heritage and hope for the future.

The designation of the campus as an arboretum not only insures sustained, energetic tree planting and maintenance, but also presents opportunities for studying trees. This "Tree Walk" is the first project of the University of Georgia Campus Arboretum initiative.




North Campus Walk

(0.5 mile & disability accessible) starts at the Arch on Broad Street. The walk proceeds south to the Main Library then back north to the Arch. The President's Club Garden is located near tree #32.

Central Campus Walk (1.7 miles) starts at Memorial Hall just north of Sanford Stadium. The walk winds in-between Tate Center and the University of Georgia Bookstore, across the parking lot, up to a wooded area off Lumpkin Street, around the Physics building, down to Sanford Drive, and back to Memorial Hall.
South Campus Walk

(2.5 miles) starts at Conner Hall on Cedar Street.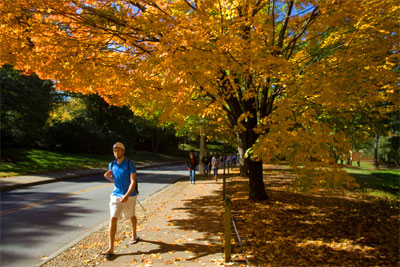 The walk continues around the Georgia Center, down to Stegeman Coliseum, over to the Tennis Courts, then north to Soule, and returning to Conner Hall. The Tennis Court Garden is located near tree #27, Mary Kahrs Warnell Memorial Garden is located near tree #45, and the Betty Johnson Horticulture Trial Garden near trees #47-49.

Visit website for maps and more info.

Each map features brief descriptions about every tree. The place of origin is usually stated following the description. When Georgia is listed as origin, this refers to the fact that the plant grows naturally somewhere in the state. Botanical and common name indexes are located at the back of the brochure.
The University of Georgia Department of Horticulture is located in the Miller Plant Sciences building on UGA's South Campus. If you plan to be on campus, please stop in for a visit at:
Department of Horticulture, 1111 Plant Sciences Building, The University of Georgia
Athens, GA 30602



Open daily and free to the public.





Phone:

706-542-2471 –

Address:

UGA Campus, Athens Georgia 30602 - UGA Arboreum Walking Tour of Trees Website


Print a Travel Region Map

Historic Heartland Fun:

Festivals & Events

Free Indoor Activities

Tourist Centers

Travel Region Info