The Ware-Lyndon House (c. 1850s) is a Late Greek Revival home with Italianate influence listed on the National Register of Historic Places.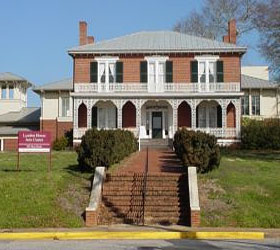 The interior has been restored and arranged with decorative arts and furnishings of the period. The historic display room features artifacts related to the historic house and to the history of Athens. Lyndon House Arts Center is operated by the Athens-Clarke County Department of Leisure Services as a center of excellence for the benefit and cultural enrichment of youth and adults. Gallery exhibitions, historic house museum, festivals, workshops, art meetings, special events, and art classes aim to provide area citizens with a positive experience in the visual arts, encouraging them to appreciate the arts and to develop their creative talents.



Exhibitions & Events

- Lyndon House Arts Center presents continually changing art exhibitions which feature the broad range of works by practicing local and area artists in a variety of media, styles and concepts. From traditional to avantgarde, works by professional, novice, young or elder artists can be seen in Lyndon House Arts Center galleries. Some exhibitions are theme presentations, some are competitions, and some are targeted to a specific media or a local patron's collection. Children visiting the galleries must be accompanied and supervised by an adult for the safety of the artwork and for artwork content. Lyndon House Arts Center welcomes proposals for future exhibitions. Please call with your ideas.
Visit the LHAC Gallery Shop

- Honey pots and pottery, paintings and photography, stained glass, blown glass and glass that is fused; carved wood and turned wood; jewelry made from silver, beads, or paper; hand-painted silk scarves and hand-knit ones too; books for all ages, written and/or illustrated by local artists and CDs by area musicians.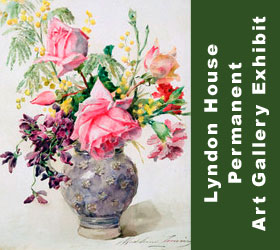 These and more are the offerings that await the shopper with a discerning eye. The Gallery Shop features unique handcrafted items by over 85 artists from Athens and surrounding areas. Artists interested in participating in the shop may call Tuesday - Saturday from noon – 5 p.m.



Amenities

are Public Restrooms, Accessibility for mobility-impaired and party facilities.



Free admission and parking.





Gallery Hours:

Tuesday & Thursday from Noon to 9 pm - Wednesday, Friday, and Saturday from 9 am to 5 pm. Closed Sunday and Monday. For program information, schedule updates, rental availability and group tours of the galleries and/or the historic Ware-Lyndon House, please call.



Phone for Gallery:

706-613-3623 (ext.228) -

Address:

293 Hoyt St., Athens, GA - Lyndon House Website
Loading


Print a Historic Heartland Travel Region Map

Historic Heartland Fun:

Festivals & Events

Free Indoor Activities

Free Outdoor Activities

Tourist Centers

Travel Region Info