This 2,775-acre reservoir near Clayton featuring beautiful scenery and large lakeside homes. Managed by the Georgia Power Company, this lake holds an impressive quality spotted bass fishery.
General Lake Info

- Angling prospects are compiled by fisheries biologists and are based on sampling efforts of the Georgia Department of Natural Resources (DNR), knowledge of past fishing trends, angling experience and information provided by anglers and marina owners. For more information, contact Wildlife Resources Division, Burton Fisheries office: ph. 706-947-3112.



Parks and Recreation

- Lake Burton has facilities suitable for boating, camping, picnicking, swimming and fishing. Timpson Cove Beach with its white sand beach, is just one of the areas where you can enjoy swimming and picnicking on Lake Burton.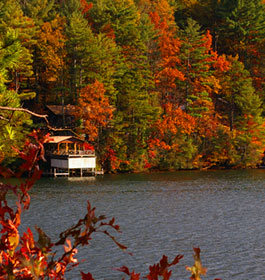 Jones Bridge Park - Due to its elevated location above the lake, this park serves as a scenic overlook for travelers along U.S. Hwy 76. There is ample parking and two picnic shelters with tables. Jones Bridge Park is located on the northern edge of Lake Burton off U.S. Hwy 76.



Timpson Cove Park

- This park provides a great atmosphere on a nice day at Lake Burton. There is a beach and swimming area, with picnic tables, rest rooms, and parking. Access to the park is convenient from U.S. Highway 76, off Charlie Mountain Road. There is also an overlook with parking nearby, which is about 1/4 mile south of the park on Charlie Mountain Road. From this vantage point there are scenic views of the Timpson Creek arm of the lake and also the surrounding mountains to the west and north.



Murray Cove Boat Ramp

- This facility provides the only public boat access area to Lake Burton during the winter. It is located off of Bridge Creek Road on the SE portion of Lake Burton.



Tallulah River Boat Ramp

- Georgia Power provides this boat ramp and parking area just north of Lake Burton on the Tallulah River. It is a popular access area for fishermen looking to drop a line in the river.



Boat Ramps

- Wildlife Resources Division (WRD) operates one boat ramp on Lake Burton. Info on Georgia Power-operated boat ramps can be found using the contact info below.
Best Fishing Bets
Spotted Bass

- Lake Burton is known for quality spotted bass and maintains bragging rights for the current state record fish that weighed 8 lbs., 2 oz. Spotted bass longevity coupled with an adequate food source give Lake Burton all the right ingredients to produce a new world record that tops the current mark of 10 lbs., 4 oz. Anglers can expect above average numbers of fish in the 12-inch size range as well as above average numbers of trophy fish.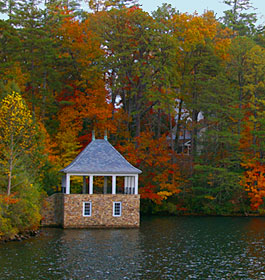 Technique - February and March are prime months to catch big bass. Anglers should fish with pig-and-jig combinations, tube jigs, plastic worms, or herring imitations around woody debris and rocky points. In the evenings, switch to jigs tipped with a Super Fluke on rocky points in shallow water. Spring (April and May) is the best time to catch high numbers of spotted bass. Pearl-colored Super Flukes and worms are effective when fished around the corners of boat docks and downed trees located near deep water. Finesse worms also are effective when rigged Carolina style and dragged across rocky bottoms. After the spawning season, spotted bass will chase topwater lures, like a Sammy, Pointer 100, or Zara Spook in herring color patterns, near points and humps in open water. This technique works best around dusk and dawn. During the day, switch to finesse worms fished on rocky points in 20-30 feet of water, especially on the lower half of the lake. When the leaves turn their fall colors, anglers should pull out the Super Fluke fished on a jig-head and head to the mouth of creeks where blueback herring congregate. If that pattern does not work, switch to vertical jigging with spoons or slow-moving crayfish imitators on points in major cove arms.



Target

- Spotted bass frequently migrate around the lake in search of their favorite prey items, including blueback herring, yellow perch and crayfish. During the winter, spring, and early fall, spotted bass primarily feed on blueback herring, which congregate in the mouths of creeks and over the creek channel in the major cove arms during these seasons. The spawning season, which generally occurs in May, pushes spotted bass to rocky areas, especially near boat docks and downed trees in 10-15 feet of water. Target these areas exclusively during the spawning season. Warming water temperatures from June to September push spotted bass into deeper water to feed on yellow perch. Target points and humps in 20-30 feet of water along the main lake channel. By fall, spotted bass frequent rocky points in the major cove arms to feed on crayfish and will roam into the creeks in search of blueback herring. Points and creek channels in Moccasin, Dicks and Timpson Creeks hold fish this time of year.
Brown Trout

- Lake Burton supports Georgia's only reservoir trout fishery. The lake is annually stocked each fall with approximately 20,000 ten-inch brown trout. By spring, fish average 15 inches in length and weigh approximately one pound. Trout will approach 20 inches in length and weigh nearly four pounds by the following spring. The current lake record is 11 lbs., 3 oz, but unofficial reports indicate that one or two fish over 14 pounds were taken by anglers last year.



Technique

- July through September is the best time to catch brown trout, especially when normal to above average rainfall occurs that forces trout into a narrow band of water at depths of 30-60 feet. Troll live bait, spoons or shad-imitating crankbaits around 35 feet deep over a 50-100-foot bottom from the face of the dam to the first safety marker. By late summer, most trout have migrated toward the dam. Anglers should troll or downline live blueback herring around 35 feet deep in the vicinity of the dam. In November, cast in-line spinners around the dam, Murray's Cove boat ramp and Moccasin Creek boat ramp to catch recently stocked fish. In the spring months, anglers should troll crankbaits that imitate blueback herring in the back areas of the major cove arms.
Largemouth Bass

- The largemouth bass population in Lake Burton is holding steady for another year. Bass in the 1 to 2 lb weight class will be common, but there will be fewer than average numbers of bass weighing over 3 lb.



Technique

- Largemouth bass in Lake Burton prey mostly on blueback herring. Fishing with live herring is naturally the best bait but soft-bodied jerk baits have a unique advantage over other artificial lures. Other proven tactics include drop-shotting with finesse worms, bouncing Carolina rigged worms or pig-and-jigs along points, humps, brushpiles and creek channels. During the fall and winter months, herring and crayfish account for the bulk of the bass' natural diet. Fishing with live herring, shiners or trout are effective cold weather baits but pig & jig combinations are the best artificial bait. Anglers should always be ready for topwater action in case a sudden and spontaneous topwater bite erupts nearby. In the springtime, slow rolling spinnerbaits and jerk baits in creek channels and around docks and trees are good approaches for catching bass in shallow water. During the hot weather months, fishing worms on points using a Carolina rig or drop-shotting finesse worms on top of brush piles in 20-30 feet of water can be very effective.



Target

- Largemouth bass are structure oriented; therefore, anglers should generally target fallen trees, creek channels, ledges, points, humps and brush piles. Largemouth bass seemed to be more abundant in the coves on the lower end of the lake, including Murray, Perrin and Cherokee Coves. The Murray Cove boat ramp is the closest access point to these areas. During the spring months, largemouth bass will hold close to visible structure with overhead cover under which they build their spawning nest. In the summer months, look for largemouth bass in 20 to 30 feet of water along main lake points and in creek channels. During the fall months, largemouth bass will actively feed at the surface over the open water of coves.
Chain Pickerel

- Lake Burton has a sizeable chain pickerel population with many fish in the trophy category. Chain pickerel are exciting to catch because they aggressively attack a variety of baits and lures and they put up a hard and sometimes acrobatic fight. They are relatively easy to catch in the spring and early summer months if you target the right areas.



Technique

- Chain pickerel will attack a variety of artificial baits, including Shad Raps, Rapalas and Flukes, but often find a white spinner bait irresistible. Anglers should not be timid about casting into thick tangles of woody debris for pickerel. Heavier lines will endure the abrasion of this type of fishing and help prevent break-offs by these sharp-toothed critters. An alternative technique is to troll perch-colored crankbaits above the weed line along the edge of shallow creek channels.



Target

- Chain pickerel prefer to ambush their prey from visible structure in very shallow water. Their favorite habitat is woody debris piles along a shallow flat in close proximity to a creek channel. They also can be found cruising the edges of creek channels. These kinds of habitats occur in the back of almost every cove on Lake Burton.
Crappie

- Black crappie are not abundant in Lake Burton but there are some huge crappie in the population that are worth some attention during the spring and fall months.



Technique

- A lively shiner is hard for a crappie to resist any time of the year. Small curly-tailed grubs in white and doll flies are suitable alternatives to live bait.



Target

- Crappie are structure oriented and will be found holding tightly to downed trees and boat house pilings. Dicks Creek Cove seems to hold the most crappie in the lake. During April, crappie will be in shallow water near visible structure located in the back of coves. In the summer and fall, crappie will move to deeper water. Anglers should target rocky points, boat house pilings or other structures in 20-feet of water or deeper. In the winter months, crappie will congregate in the deeper creek channel. Fish these areas very slowly to draw a strike.
Contact Info, Location & Website Link
Phone: Georgia Power 706-782-4014 - Located next to Lake Burton Trout Hatchery at 3695 Highway 197 N, Clarkesville GA 30523

Check These Out:


Georgia Lakes

WMA Public Fishing Areas

GA Fishing Lakes

Georgia Rivers & Map

GA Lakes & Rivers Map

Water Safety

Fishing Trip Checklist