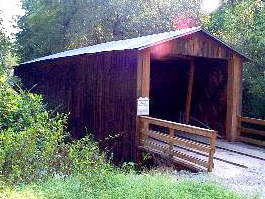 Elder's Mill Covered Bridge -

Phone:

706-769-5197 - In Watkinsville Georgia in Oconee County.



Bridge Description:

This bridge was constructed in 1897 by Nathaniel Richardson in the town lattice style. It is 100 feet long. The bridge originally spanned Calls Creek on the Watkinsville-Athens Road and was moved by wagon to its present location by John Chandler of Watkinsville in 1924. It goes over Rose Creek and has also been known as Rose Creek Bridge.

Recently restored, it is one of only a few bridges in Georgia that still carries traffic without help from underlying steel beams. Local community support is in evidence at the site with the Watkinsville Garden Club's planting at the East end of the bridge. A neighbor decorates the bridge with Christmas lights every December.



Directions:

From Athens, take Hwy. 441 for 9 miles south to downtown Watkinsville, go south on Hwy. 15 for 4 1/2 miles and east on Elder's Mill Road for 1 mile. In Herman Michael Park. In the Historic Heartland Travel Region.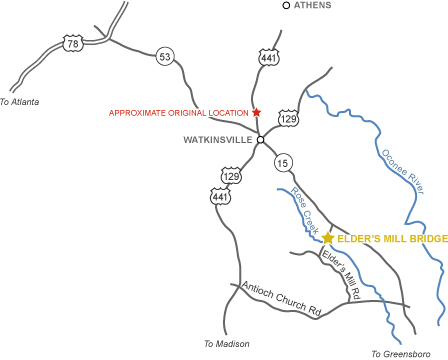 Loading

Georgia covered bridges online map.

Georgia covered bridges printable map.

Georgia Covered Bridges