Stone Mountain Covered Bridge

-

Phone:

770-498-5690 or 800-317-2006
Stone Mountain, GA (Dekalb Co.)



Bridge Description:

This bridge was built in 1891 by Washington W. King and is 151 feet long. It's truss is town lattice. It is at Stone Mountain Park Lake. It has a parking area, picnic area and historic marker. It has also been known as College Avenue Covered Bridge and Effie's Bridge.

Stone Mountain Bridge is in Stone Mountain, Georgia. Originally located in Clarke County spanning the Oconee River, the bridge was sold for a dollar and moved to its present site at Stone Mountain Park in 1965, and now provides access to the Indian Island picnic area.

Historical marker, picnic area and parking available.



Directions:

From Atlanta, take I-285 to Exit 30b to Hwy. 78, which is 7 1/2 miles to the entrance of Stone Mountain Park. In the Metro Atlanta tourist region.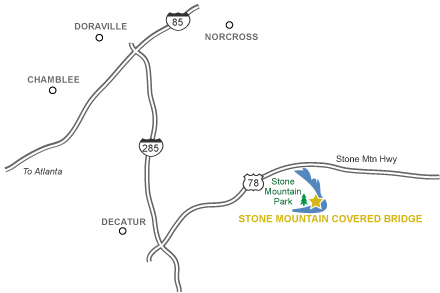 Loading

Georgia covered bridges online map

Georgia covered bridges printable map


Georgia Covered Bridges