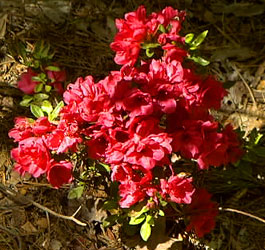 Chattahoochee County -

Riverbend Park

is a public access facility on the shores of Lake Walter F. George. The habitat consists of open water intermixed on the north side with small vegetated islands. The uplands are forested with mixed pines and hardwoods. This is a great place to picnic, watch birds, launch a boat or canoe and watch wildlife from the water.

Birds & Bird Nesting Seasons:

Songbirds (all), Warblers (spring and fall), Waterfowl (winter), Wading birds (spring through fall), and Woodpeckers (all).

Interesting Birds:

Canadian Geese, Ring Tailed Gulls, and Yellow Rumped Warbler. A spotting scope is a must to observe gulls, waterfowl and wading birds.

Open

: Sunrise to sunset

Fees for Use of Boat Ramp and Primitive Camping - $5 -

Phone

: 706-989-9911 -

Address

: 962 Riverbend Park Rd, Cusseta Georgia 31805 -

Directions

: From Cusseta, drive south on US 27 to the junction of US 27 and SR 53, turn right on SR 53 and continue west to the park.
Clay County

-

Walter F. George Lock and Dam

- Lake Walter F. George occupies an impressive 85 miles of the Chattahoochee River, separating Alabama and Georgia with 48,000 acres of fresh water perfect for boating, fishing, skiing and swimming. With 640 miles of shoreline, 13 Corps of Engineers day use parks and four adjoining campgrounds, the Lake is an ideal place for camping, outdoor and water-related activities. Each year, the power plant generates enough electricity to serve 56,000 homes. The lock, a focal point of commercial and pleasure craft traffic, with a lift of 88 feet, is the second highest east of the Mississippi.

Phone:

229-768-2516 -

Location

: Rt. 1 Box 201, Fort Gaines Georgia 39851 -

Directions

: GA Hwy 39.
Lamar County -

Lamar County Parks & Recreation

is a recreation facility, amenities: football, soccer, baseball/ softball fields, flag football & cheerleading. We provide year round programs designed to meet the leisure needs of the youth in our community. These programs help develop the character of the youth through the experience of participating in team sports. These experiences contribute to the concept of working together and the development of well-rounded citizens.

Phone:

770-358-5800 -

Location

: Barnesville Georgia 30204
Pike County - Gerald I. Lawhorn Canoe Base & Training Center

is located on the edge of the Pine Mountain Trail along the Flint River has a 8.2 mile looping mountain bike trail to satisfy the beginner mountain biker to expert. 1106 feet of climbing trails. 15 miles of hiking trails open to the public. Check in at billboard at the Canoe Base.

Phone:

706-646-2255 -

Address

: 1166 Dripping Rock Rd., Molena Georgia 30258 - GA 74.

Located

on the Flint River in Upson County.
Sprewell Bluff State Outdoor Recreation Area

- This gem on the Flint River is a perfect location for a daytime getaway. Visitors can cool off in the gently flowing river, skip rocks across the water, picnic on the river's edge or toss horseshoes in a grassy field. It is in Thomaston Georgia. See Sprewell Bluff pictures and info here.
Talbot County - Big Lazer Public Fishing Area is located within the boundaries of the Big Lazer Creek Wildlife Management area, this 195 acre lake offers large mouth bass, bream, catfish and crappie. Bank access, concrete boatramp, some handicapped accessible areas, picnic tables, grills. Open sunrise to sunset year round. Check Georgia fishing regulations for more info.



Phone:

706-846-8449 - Bunkham Road, Talbotton Georgia 31827 -

Directions

: US 80 East from Talbotton - approximately 4 miles to Po Biddy Road. Turn left, go 6.4 miles to the first dirt road on the left, past Collingsworth Methodist Church. Turn left and go 1.2 miles to the lake.
Upson County - Civic Center

amenities include a Soccer Complex, baseball/ softball field, football stadium Hours: 8:00 am to 9:30 pm Monday - Friday, 8:00 am to 4:30 pm Saturday -

Phone:

706-647-9691 -

Address

: 101 Civic Center Drive, Thomaston, Georgia 30286 -

Directions

: I-75 South, exit 201 (Barnesville-Jackson) State Hwy 36 West to Barnesville, continue West to Thomaston; at 4-way stop entering downtown Thomaston, turn left on to State Hwy 74 East, turn right on to Holstun Drive (football stadium & baseball fields will be on right); Civic Center Drive is located past Upson-Lee Middle School on left.
Visit more Georgia parks, camping areas

Return to County and City Parks

State Parks

Wildlife Management Areas Campsites

National Forests Campsites
Loading

See Georgia County Parks