This is a fun place to buy delicious fruits and more. They have Apples, Peaches, Cider, Fried Pies, Ice Cream, Apple Breads and Butter, Jams, Jellies, Dried Fruit, Bakery Items, Candy Shop, and a genuine Antique Soda Fountain.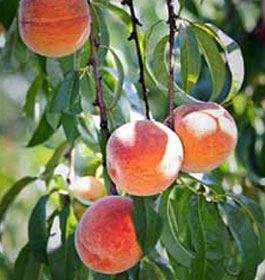 Produce & More - Panorama Orchards is a family fruit farm established in the 1920's to produce and market apples. Today we have available more than 20 varieties of apples, as well as peaches, and fall vegetables. This production, along with a variety of apple related product and baked goods from our own kitchens, is sold direct to the public at our farm market.

Apples are the "core" of our business which has changed over the years from primarily wholesale to a diversified retail store. Our present facility was constructed in 1983, and contains an apple packing line, cold storage for 10,000 bushels, bakery kitchens, and a retail sales area.



More Than Apples

- Our fresh cider is made from a blend of sweet and tart apples. It has no additives, so the delicious fresh apple flavor is not altered. Each batch of cider is unique, because of subtle changes in the variety mix throughout the season.

Panorama Fried Pies are the famous "signature" product of our market kitchens. They're always made fresh daily, from scratch, using plenty of fruit and the finest ingredients.

In addition to fried pies, our own line of unique baked goods includes applesauce bread, apple brandy cake, and baked apple pie. They're all made from scratch in the market
kitchens, using our own fruit. You're welcome to watch... viewing windows are located in the kitchens and apple processing area.

We recently started making homemade fudge in our market. There is a large selection of flavors to choose from; usually twelve; including a featured flavor of the month. We use the freshest ingredients, including real butter and cream, and a variety of fruits and nuts. Our fudge is available year around, and makes a nice gift for holidays or birthdays.

Hours, Phone, Address, Directions & Website
Open

July-March, Weekends Year-Round, 9am to 6pm.

Phone

: 706-276-3813 -

Address

: Hwy 515 Bypass, Ellijay, GA 30540

Website:

www.panoramaorchards.com
Loading

Visit

GA Farmers Markets

Georgia Certified
Farmers Markets