It was built in 1872 over Nickajack Creek in Cobb County. Historical marker available. Description, directions, map, phone number and picture are below.
Bridge Description:

Concord Bridge is 131.7 feet long and 16 feet wide. It was built in 1872. This bridge is open to traffic. It is over Nickajack Creek. There is a historical marker at this bridge.

Concord bridge has become the focus of the Concord Covered Bridge Historic Area. An old railroad bed, including a few bridges, in the area has been converted to a dedicated bike trail as part of the PATH Foundation's Silver Comet Trail. Even the bridges along the nearby East-West Connector have been given a timber motif.

This historic area also has remnants from Ruff's Mill, the scene of a Civil War battle. Ruins of the dam are still upstream of the bridge as well as parts of the grist mill. The miller's house is still a residence.

Though historically it has the highest traffic count of all the covered bridges in the state combined, the count has diminished with completion of the East-West connector. Nonetheless, repairs were expedited and completed ahead of schedule to get this bridge back in service as soon as possible. Note: Fast and high traffic makes a visit to this bridge dangerous.

This bridge originally consisted of only two spans, each a queen-post truss with steel (or iron) tension rods. The center abutment, as can be seen in the photo of the steel beams above, seems to have been widened from a previous bridge using the same pier.

In the 1950's steel beams were added to support the bridge and additional concrete piers were added. There is also a fourth all-steel support which can be seen in the downstream view.
Concord Covered Bridge

-

Phone:

770-933-7228 - Concord Rd., Smyrna, GA (Cobb Co.)



Directions:

From Atlanta, take I-75 north to I-285 west. Take Exit 15 (South Cobb Drive), and go 7 miles to Smyrna and 2 1/2 miles southwest on Concord Road. In Kennesaw Mountain National Battlefield in the Metro Atlanta Travel Region.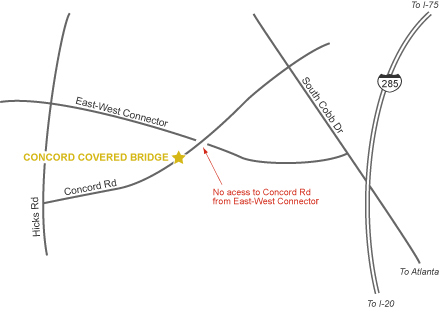 Loading


Georgia covered bridges online map.

Georgia covered bridges printable map.

Visit
Georgia Covered Bridges