North Georgia Quarter Midgets Eastern Grands

- 7/23 - 7/26/2013 at 11am
Watch children age 5 to 16 compete in the North Georgia Quarter Midgets Eastern Grands. Quarter Midgets of America is a non-profit organization with more than 2,500 family memberships and approximately 4,000 drivers. There are 13 regions in the organization and 50 Quarter Midget Clubs Nationwide. The sport involves racing in specially prepared cars. The cars, rules and safety procedures are designed specifically for kids. They race on oval tracks approximately 1/20 of a mile. A child who is 5 to 16 years of age can race. Safety features include full roll cages, multi-point seat harnesses, full face helmets, and other gear. The public is always invited and welcome to come watch the kids race.

Free admission and parking.

Phone

: 678-770-3973 -

Address

: Cumming Fairgrounds, 235 Castleberry Rd, Cumming, GA 30040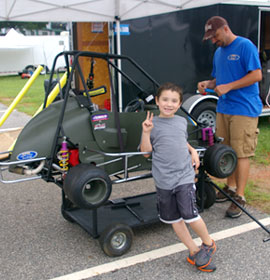 Quarter Midget Racing is a family sport for children between the ages of 6 - 16 years old. It has all the excitement of a NASCAR race, but young drivers, supported by their families and communities.

This is a growing sport that includes boys and girls that is a rule-regulated sport where safety has the highest priority. These families become members of local organizations such as NGQMA (North Georgia Quarter Midget Association) providing supervised activities similar to the Eastern Grands going on this week at the Cumming Fairgrounds in Cumming, Georgia.

Similar organizations are located in many states. These organizations provide local competition events similar to other sports organizations for children. Chapter races compete to send their top drivers to regional races and ultimately to Grand National races.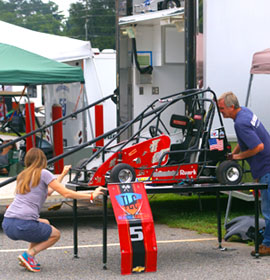 Walk through "Pit Row" at the Cumming Fairground and you will see quarter midget racing crews from many states outside of Georgia. These are families that come together to support their children for a week of racing. Some families have a single race car, maintained by both parents. Others have multiple cars, many with sponsorships of businesses in their hometown.

It is well worth the time to bring your family out to these events so that children can see races that are professionally run by the track staff ensuring everyone has a safe and enjoyable experience.

The safety measures enforced by the rules of the sport make this a safer sport than most contact type sports in schools today! Between races, families get together with the young drivers playing together as the "pit crews" maintain the cars to qualify for the upcoming races.

It is a family sport that brings together folks in all walks of life dedicated to making this a safe sport for everyone involved, including the casual spectator interested in racing. Primarily, it focuses on children having an enjoyable experience!

The most exciting part of this sport is the actual races where the drivers compete in categories based on children's ages. These kids are just as competitive as their adult counterparts in auto racing.

The race cars must meet strict specifications because these cars are not simply go-carts you may find at many homes. They are racing machines with motorcycle engines limited by the maximum speed they can reach on a track. Driver skills dictate who will be the winner of each race classification based on age. As the children get older and their driving skills improve, they compete with others to hone their racing abilities.

This is an exciting race to see! Best of all,

admission and parking for spectators is Free!

You can watch this fun race through July 26, 2013. However, in case of a rainy day, the show will go on through July 27, 2013.

See a video of this wonderful event at the bottom of this page.