This trail begins as a multi-purpose woods trail. It then eventually changes to a narrow, steep pathway as it climbs 2000 feet to the top of Grassy Mountain.
OHV Trails - General Information
Windy Gap OHV Trail Riding

- 4.1 miles length. It ends at an upper trailhead on Forest Service Road 68. Follow the trail up a narrow ridge line and cross a high-mountain stream to complete the trip. Much of the trail is steep, narrow and rocky.Windy Gap Trail connects to Tibbs and Milma Creek.



Milma Creek OHV Trail Description:

3.5 miles length. Trail also suitable for Cycles and ATV's including mountain bicycles. Sections are steep and streams must be crossed. This trail connects Windy Gap Cycle Trail and Tibbs Trail. This trail connects Windy Gap Cycle Trail and Tibbs Trail. Access is from either the base of Grassy Mountain via Windy Gap Cycle Trail, or the top of Grassy Mountain via Tibbs Trail.



Tibbs OHV Trail Description:

4.4 miles length. Trail is also suitable for mountain bicycles, motorcycles and ATV's. This trail follows a multi-purpose woods road beginning atop Grassy Mountain and ending at a gate near private land. A second gate is located about 1 mile below the trailhead. The trail descends a steep ridge leading down the mountain through managed timber stands of pine and hardwood.

Caution:

November through February is hunting season and the trail is open to mixed vehicle travel.

Directions:

This road is closed by gates on both ends. Access is through Windy Gap Cycle Trail and Milma Trail which connects the two. Another access is by Forest Service Road #49 across from Loop B at Lake Conasauga.



Note:

Vehicles must be less than or equal to 50" wide. ATV's are prohibited above Milma Creek Trail intersection. Helmets are required for motorbikes by State law. Children under 16 must be accompanied by a licensed driver. The consumption of alcohol while operating any type of vehicle is strictly prohibited according to State and Federal law.

Other activities on this trail are Mountain Biking and Day Hiking. There is

no charge to ride on these trail

systems.

Open:

Open daily all year.

No

water or restroom facilities.
Contact & Directions
USDA Forest Service, Conasauga Ranger District office

-

Phone:

706-695-6736

Address:

3941 Highway 76, Chatsworth, GA 30705

The Conasauga Ranger District covers the western third of the Chattahoochee National Forest. A diverse set of landscapes make up the Conasauga district, from the ridges and valleys west of Interstate 75 to the Cohutta Mountains northeast of Chatsworh, GA. This part of the forest offers some of the best scenery and outdoor recreational activities in north Georgia.



Chattahoochee-Oconee National Forests

-

Phone:

770 297-3000


Address:

1755 Cleveland Highway, Gainesville, GA 30501


Office hours:

Tuesday - Friday at 9 - 12 & 1-4 - Closed Saturday, Sunday, and Monday



Directions to Windy Gap and Milma Creek OHV Trails:

Take US 411 north from Chatsworth for 4 miles. Turn right (east) at the traffic light in Eton and go about 4.3 miles. Turn left on Forest Service Road 218 (Muskrat Road) and travel 3 miles to the lower trailhead.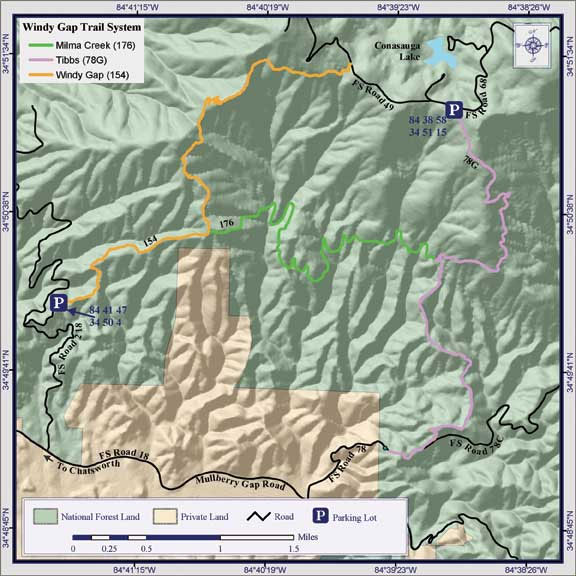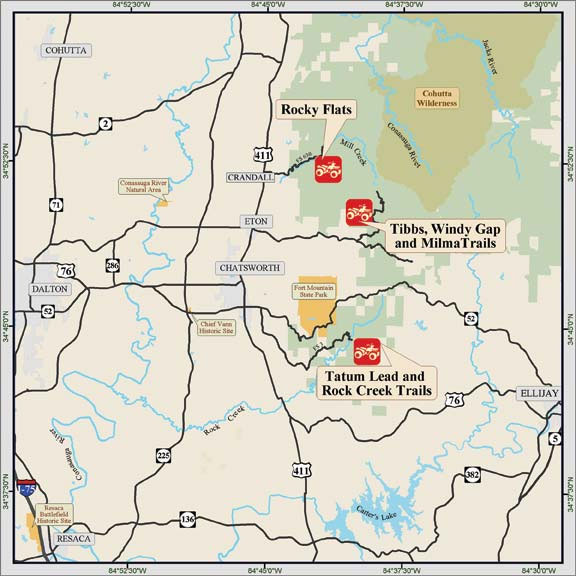 Multiple ORVs Vicinity Map

More GA US Forest Areas

Camping

Hiking

Horseback Riding Trails

Fishing

Canoe Trails

GA US Forest Wilderness

Wilderness Preparation

Canoe Safety Tips

Forest Safety Tips

GA U S Forest History