About the Log House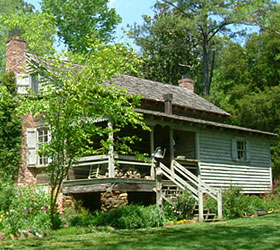 This c1825 log house homestead provides a rare glimpse into how the earliest homesteaders lived.



Built of oak timbers 6"x 8", it followed the pattern of early Virginia architecture (plantation plain-type) and consisted of one and one-half stories, built high off the ground. It was built using local fieldstones and hand-made bricks for the foundation, providing an ample cellar underneath.

The lower floor has two main rooms, each 18 feet by 18 feet, with a stairway leading to the two rooms above. The upper story consists of two rooms, with the walls also of timbers 6"x 8", with slanted ceilings.

Pegs were used in the construction of the house. The timbers were notched to fit together.

A chimney on each end of the house provided for fireplaces.

The shed rooms on the lower floor were used for extra sleeping. Front and back porches were built in the style of the time. Originally there was a kitchen built away but attached to the house by a breezeway.

The cellar covered the entire length of the house and was used for many things, including the cooling of milk and butter, vegetables and fruits.
General Info
The Harris Homestead is a delightful site for tours, an outdoor wedding, reception, family reunion, theme party, or other special event. Contact us to discuss availability and pricing.

Amenities

: Parking, Restrooms, Accessibility for mobility-impaired and Party Facilities.

Call for free tours.
Tour Hours
Public Tours:

Scheduled on the first and third Saturdays of each month from 10:00 am until 2:00 pm. We invite the public to visit and enjoy a personalized tour of the homestead log house and grounds. Visit website for more info.

School Field Trips: "A Day in the 19th Century" field trip includes a hayride and four teaching units that keep the students involved and interested: tour of the antebellum log house and lifestyle; medicinal herb garden, candle-making, and food preservation; life of a Civil War Soldier; and lessons on the Creek Indians. Call for more info.
Phone - Address & Website
Phone:

770-267-5844, 404-816-2943 -

Address:

3636 Georgia Hwy 11, Monroe Georgia 30656 William Harris Homestead Website
Loading


Print a Historic Heartland Travel Region Map

Historic Heartland Fun:

Festivals & Events

Free Indoor Activities

Free Outdoor Activities

Activities $5 & Under

Tourist Centers

Travel Region Info