Historical and General Info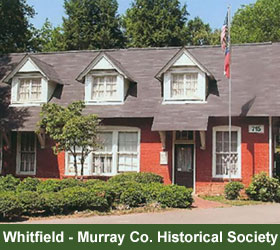 Take a journey through history. This 1890's building once served as offices for the Crown Cotton Mill but now serves as headquarters for the Whitfield-Murray Historical Society.

The Whitfield-Murray County Historical Society was formed in the 1950's as part of an effort to restore the historic Vann House in Spring Place, Georgia.

In 1976, following a period of inactivity, the Society was reorganized as a non-profit organization seeking to preserve and document the history of Whitfield and Murray Counties. Much has been accomplished since 1976, and new and exciting things continue to happen with our society.

Please browse around. We hope you will consider becoming our newest member! To put it simply, we love our local heritage and want to preserve it so that you can savor its richness as well!

The historical society maintains several local historical properties which would otherwise be in danger of neglect or destruction. Historical society properties include the historical Hamilton House, the Blunt House, and Dug Gap Battle Park in Whitfield County; the Wright Hotel, Chatsworth Depot, and the Spring Place Methodist Church in Murray County, Georgia.

The Whitfield-Murray Historical Society is headquartered in the 1890's Crown Cotton Mill office building in Dalton, Georgia. Our headquarters, best known as "Crown Gardens & Archives, and more recently called the Whitfield-Murray History Center, serves as a depository for historical records and research material relating to the history of Whitfield and Murray counties.
The archives contain many one-of-a-kind documents that are unavailable elsewhere. Holdings include original ledgers, stock certificates, employee payroll records, and other historic documents relating to area businesses which no longer exist; documents and photos relating to the history of the local chenille and carpet textile industry; genealogical research materials, including local family files, history books, local records, histories of Whitfield, Murray, Gilmer, Catoosa, and surrounding counties; regional marriage and cemetery indexes; and other research material, including the Georgia Death Index on microfiche. Publications of the historical society are also available for purchase at our headquarters.

The facility is used for many functions --meetings, seminars, family reunions, social affairs and fundraising events. The building also serves as a depository of valuable information for those interested in genealogical and local historical research. One can find cemetery lists, marriage records, census indexes, county and family histories and more than 700 family files --all available to the public. The Archives also houses revolving displays of local historical interests.



Amenities:

Parking, Public Restrooms, Accessibility for mobility-impaired



Free admission.
Dug Gap Battle Park
Located on Dug Gap Mountain, the Battle Park offers a magnificient view of Whitfield County and a glimpse into the rich Civil War history of our area. Stone fortifications located here traverse pathways from lookout points along the trail. This Civil War site is maintained by the Civil War Round Table of Dalton and is open year round.
The Blunt House
The Blunt House is one of oldest two story homes built in Dalton.

It was the home of Ainsworth Emery Blunt, the first mayor and Postmaster of Dalton. Mr. Blunt was originally from New Hampshire. After moving South, he taught carpentry, blacksmithing, coopering, and religion to the Cherokee Indians. He soon married Harriet Ellsworth, and later Elizabeth Christian Ramsey of Tennessee. In 1838 Blunt gave communion to the Cherokees as they began their "Trail of Tears" to Oklahoma. He was also one of the founders of the First Presbyterian Church in Dalton and was a very influential and prominent man among the Southern society of Dalton.

The Federal style house was completed in 1848.
Wright Hotel
Thomas Wright, the creator of the Wright Hotel, opened his once flourishing business in 1909.

An influx of Northerners and Southerners alike flocked to the rural town of Chatsworth to drink the refreshing mineral waters, enjoy cool mountain breezes, and to dine on Southern-style cooking. Mr. Wright, a farmer, builder and architect, along with his cousin supervised the construction of the three-story hotel. Not only was it a hotel, but also the home of the Wright family, which included his wife and six children. Mr. Wright rented a brick plant for a year to make the rose colored bricks to build his hotel. The heart pine lumber need for construction was cut from his farm and aged for a year. The hotel has served many including jurors, school teachers, judges, politicians, and honeymooners.

Many historic displays and memorabilia can be viewed here such as the rock that is present at the bottom of the stairs --mail for the guests was placed under this rock, the 7-foot tub in which Mr. Wright was baptized, original furniture and Indian pottery and baskets. The hotel also houses a collection of nursing paraphernalia belonging to Kate Raine, daughter of Mr. Wright, who served as a nurse on the Indian reservations of the southwest. Hotel registers dating to the 1920's give a glimpse of those who stayed there while it was thriving business.

The Wright Hotel, located at the corner of Market Street and Second Avenue in Chatsworth, Georgia.
Chatsworth Depot
In 1904 the Louisville and Nashville railroad system ran from Cincinnati, Ohio to Etowah, TN.

In order to complete a direct line to Atlanta, the L & N railroad system began laying tracks from Etowah south. In 1905, tracks were laid through Murray County. The Chatsworth Depot, now located adjacent to the Wright Hotel, was built along the tracks during this period. It contained two waiting rooms, an agent's office, an express and baggage room, and a freight room. The L & N Railroad employed many Murray County residents, and trains would stop daily to transport residents traveling to and from Cartersville and other points. President Franklin D. Roosevelt once spent a night in his private car at the depot on his way to Warm Springs, where he went for therapy for polio.

The restored depot currently houses two museums: one chronicles the growth of the local talc industry; the other documents more than a century of railroad service in Murray County.

The Talc Museum contains a collection of historical information and artifacts relating to the talc industry in Murray County, including maps, documents, photographs, news articles, tools and special equipment.

The Chatsworth Depot, originally on the L & N Railroad, has been moved a block to its present location behind the Wright Hotel.
Hours of Operation, Contact - Address & Website
Tuesday through Friday at 10 am - 5 pm -

Phone:

706-278-0217 –

Address:

715 Chattanooga Ave., Dalton Georgia 30720 - Whitfield-Murray County Historical Society Website


Print a Travel Region Map



More Historic High Country Activities:


Festivals & Events

Free Indoor Activities


Free Outdoor Activities

Activities $5 & Under

Tourist Centers

Travel Region Info