This 11.2 mile OHV Trail is all 2-way traffic trails, except for 2 motorcycle trails. Trails are suitable for motorcycles and ATVs. The trail system is about 6 miles north of Dahlonega GA.
Whissenhunt OHV Trail General Information
Trail Description:

Suitable for Motorcycles and ATVs. Designated trails in this area range from easy to most difficult. Users are required to stay on the signed trails to prevent damage to the surrounding resources. Whissenhunt hours of operation are from sunrise to sunset. A fee is required to ride on this trail system.



NOTE:

Call before driving out. This OHV Trail System will remain closed until further notice, due to impacts from the latest snow event and wet weather. The OHV areas are tentatively scheduled to re-open April 1, 2015 if there are no additional weather impacts. Many of the trails within this system are classed as difficult to most difficult. This area is recommended for experienced riders only. This area is closed from January through March for resource protection during the wet and freezing months of the year, when the most impact from use can occur.



Open:

Sunrise to sunset. Not operational after dark. Closed until further notice.


Facilities:

1 Vault Restaurant Facility - No Water


Class of Vehicles Permitted:

ATV, 4x4 and Motorcycle



Permit Fees:

1-Day Permit: $5 per operator per day. Pay at site. OHV Annual Pass: $50 per operator per year. You can obtain this pass at any Forest Service Office. The Forest Annual Pass cannot be used on this trail system.



Restrictions:

No bolted, studded or tire chains allowed. No night riding. The Forest Annual Pass cannot be used on this trail system.
Contact & Directions
USDA Forest Service, Blue Ridge Ranger District

-

Phone:

706-745-6928 -

Address:

2042 Hwy 515 W, Blairsville Georgia 30512 -

Open:

Monday - Friday at 8-12 & 1-4:30 pm



Chattahoochee-Oconee National Forests

-

Phone:

770 297-3000 -

Address:

1755 Cleveland Highway, Gainesville Georgia 30501 -

Open:

Tuesday - Friday at 9 - 12 & 1-4 - Closed Saturday, Sunday, and Monday



Directions

- Take US 19/60 north from Dahlonega Georgia for 2.2 miles. Turn left on paved county road (Wahsega Road) toward Camp Frank D. Merrill. Go 3.9 miles to dirt Forest Service Road #662, turn left into OHV parking area.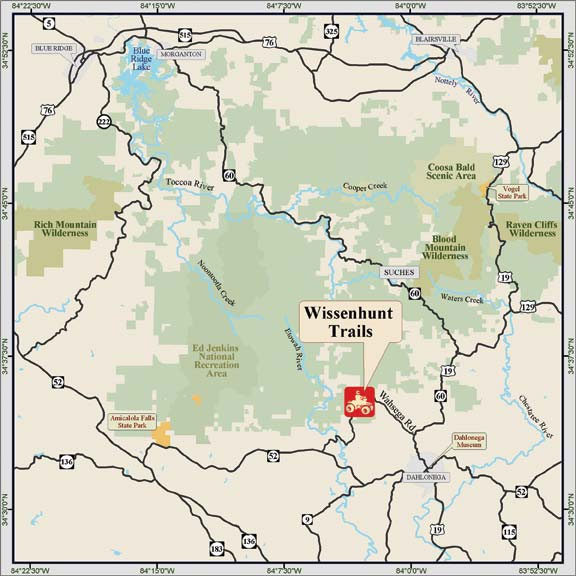 Whissenhunt ORV Trail Vicinity Map
Click here for a Whissenhunt Trail System Map

More GA US Forest Areas

Camping

Hiking

Horseback Riding Trails

Fishing

Canoe Trails

GA US Forest Wilderness

Wilderness Preparation

Canoe Safety Tips

Forest Safety Tips

GA U S Forest History