Located in Comer, GA, this covered bridge, also known as Carlton Bridge, was built in 1885 by Washington W. King over rock shoals in Oglethorpe and Madison Counties. Historic marker, picnic area and parking available.
Watson Mill Covered Bridge

-

Phone:

706-783-5349 - Comer, GA - It is located on the Oglethorpe and Madison Counties border.



Bridge Description:

Built in 1885 by Washington (W.W.) King, son of freed slave and famous covered-bridge builder, Horace King. It is 228.6 feet long and is open to traffic. It's truss is town lattice. It has a parking area, picnic area and historic marker. It is Watson Mill State Park at the south fork of the Broad River. It has also been known as Carlton Bridge.

Framed above a fall of sparkling water and rock shoals, this "King" of the wooden bridge era is a photographer's delight. The bridge is featured as the main attraction in Watson Mill Bridge State Park, named after Gabriel Watson. Also located within the Park's Bridge and Mill Historic District are remnants of a mill complex and hydroelectric plant.

See a dramatic 'bird's eye' video of this covered bridge at the bottom of this page.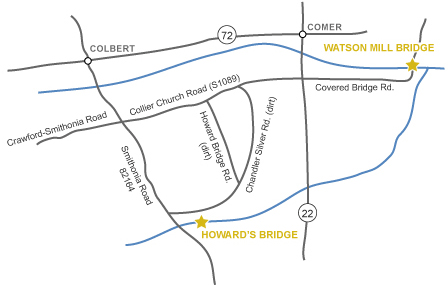 Directions:

Take 78 east from Athens to Route 22. Turn north for about 11.5 miles, then onto Watson Mill Road (east) into the park. In the Watson Mill State Park in the Northeast Mountains Travel Region in Oglethorpe County.
This video shows a bird's eye view of the bridge. We had tons and tons of rain this year (2013) and you will get a good look of the rushing water going under the bridge.
Loading


Print a NE GA Mountains Travel Region Map

NE GA Mountains Fun:

Festivals & Events

Free Indoor Activities

Tourist Centers

Travel Region Info

Georgia covered bridges online map.

Georgia covered bridges printable map.


Georgia Covered Bridges