The 47-seat planetarium is equipped with a Spitz A3P projector and reproduces the night sky with the moon, stars, and naked eye planets.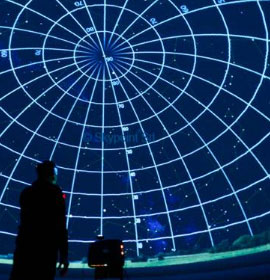 The VSU Planetarium serves as a valuable teaching tool and as a facility for an extensive public outreach program. Astronomy majors give planetarium shows for thousands of school children who visit VSU each year. If you would like to bring a class of students, please read our Planetarium Policy.

We also offer 6 public planetarium shows each year. This evening series is free of charge and open to all members of the public. All our shows are suitable for ages 5 and up. Shows begin on Friday evenings at 8 pm and 9 pm sharp and last approximately 1 hour. The shows are followed by observatory open house, if weather permits. Seating is available by tickets only. Advanced reservation can be made by calling the Department of Physics, Astronomy, and Geosciences.
VSU Planetarium Shows
This evening series is Free of charge and open to the public.

Seating is limited to 47 for each show and is available only with advanced reservations.

You can make reservations by calling the Department of Physics, Astronomy, and Geosciences at 229-333-5752. Limited public parking is available in front of Nevins Hall and at the Admissions Office on the opposite side of Patterson Street. For more information about the upcoming shows see the schedule below or call 229-333-5752. All shows begin at 8 pm and at 9 pm sharp.

The shows are suitable for ages five and up and usually last 40 to 50 minutes followed by observatory open house, weather permitting.

The planetarium is in Nevins Hall on the 3rd floor (NH 3004). See these event listings here.
VSU Planetarium Policy
Our planetarium shows for school groups and civic organizations (up to 47 visitors) may be scheduled through the Event Services office (229 333-5998). These shows are presented by astronomy students trained in the operation of the planetarium; times available for shows are limited. Please observe the following policies when requesting a show:

1. Groups must comprise at least 10 individuals.

2. We provide shows for non-profit civic organizations and for school groups in grades K-12. For grades 8 and under, we request that 1 adult chaperone per 10 students be included in group.

3. The planetarium seats 47 and groups may not exceed this number (including chaperones).

4. Reservations must be made at least two weeks in advance of the requested date.

5. The planetarium is closed from mid-May to mid-August.
Contact, Address and Website
Phone:

229-333-5752 -

Address:

1500 N Patterson St., Valdosta Georgia 31698-0055 - located in the Nevins Hall on the 3rd floor - VSU Planetarium Website

Visit:

Georgia Planetariums & Observatories