Troup Square

- This square was named for George Michael Troup, Congressional Representative, Governor and Senator. There was only one other square, Washington Square, named for a person who was alive when so honored.

On the West side of the square, there are the high stoop McDonough Row Houses, built in 1882 that were the object of one of the first historic restoration efforts in the 1960s when federal funds became available for historic preservation activities.

Kennedy Row, low stoop brick houses on the West side of the square, were built in 1872 and also rehabilitated in the Troup Square Renewal Project.

On the West side of the squre, there is a dog fountain that was reinstalled in the 1980s.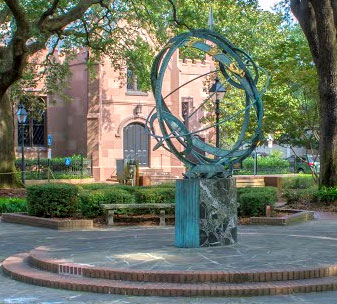 The Armillary Sphere in the center of the square was created in the 1970s and represents an ancient astronomical device. It originally had gold continents inside and twelve Zodiacs on the rim; but were removed to prevent theft or further vandalism.



Monument: Armillary Sphere


The center of Troup Square holds an armillary sphere made into a sundial. It was chosen for its decorative value as a focal point for the landscaping of the square.

The sphere is a series of astrological rings with a piercing arrow that, in theory, records the date and time by shadow. It consists of a delicate series of rings mounted with astrological applique set on a cast ring which is supported by six tortoise.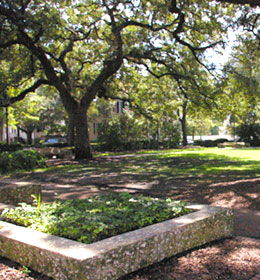 Warren Square - This square, laid out in 1791, is on Habersham Street between Bryan and Congress Streets. It was named for General Joseph Warren, killed in the 1775 battle of Bunker Hill. The city parking garage covers the two western Trust Lots.

The Spencer House, built in 1791, on the West side of the square, underwent a total resoration in the 1980s. A private philanthropist has completely redone the double house on the Northwest corner of Habersham Street in 1993.

On St. Julian Street between this square and Washington Square there are some of the oldest houses in the historic district.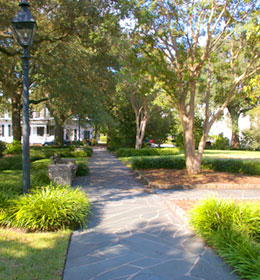 Washington Square

- This square, on Houston Street, is near the site of the old Trustees Garden.

It was named for George Washington. For many years, until the mid-twentieth century, this square was the scene of the biggest New Year's Eve bonfires, many often taller than the houses around the square.

The Seaman's House, operated by the Port Society to serve the needs of visiting seaman, is on the Southwest side of the square.

The Mulberry Inn, also on this square, was originally a cotton warehouse, built in the 1860s, then a Coca-Cola bottling plant before being converted to an inn.
See more Savannah Georgia Squares.
Loading


Colonial Coast GA Travel Region Printable Map

GA Coast & Islands Fun:

Festivals & Events

Free Outdoor Activities

Tourist Centers

Travel Region Info