This 15-mile OHV Trail system is located north of Greensboro Georgia. It is 15 miles of trails in two loops,one for ATV's and one for motorcycles and bicycles.
Town Creek OHV Trails General Information
The trails are 15 miles in length. This double loop trail has numerous creek crossings in the rolling piedmont of middle Georgia. It starts at a hunt camp. Loop A is for two wheeled vehicles only Loop B is for ATV's and Four wheelers. Jeeps and other such UTV type vehicle are not allowed.

Primative camping is allowed at the trail head for Loop B.



NOTE:

Riding is not allowed when weather, including rain, snow, ice and freezing, creates conditions that causes excessive damage to trails and resources. 36 CFR 261.55(a). Call 706-485-7110 before driving out. Trail is frequently closed due to rain and bad weather.



Open:

January from 7am-7pm



Class of Vehicles Permitted:

ATV and Motorcycle



Fees and/or Pass:

1-Day Permit: $5 per operator per day. Pay at site.

or

OHV Annual Pass for $50 per operator per year.



Restrictions:

No bolted, studded or tire chains allowed. No night riding. The Forest Annual Pass cannot be used on this trail system.



Closest Towns:

The nearest town is approximately 6 miles, or 15 minutes, south in Greensboro, GA. Here riders will find restaurants, grocery stores, etc.



Water:

None -

Restroom Facilities:

Vault Toilet
Contact, Directions & GPS Location
USDA Forest Service, Oconee Ranger District

-

Phone:

706-485-7110


Address:

1199 Madison Road, Eatonton, GA 31024 -

Office hours:

Monday - Friday at 8 am until 4:30 pm

Approximately 60 miles southeast of Atlanta, the Oconee National Forest is an easy drive and has much to offer those in the heart of the state. Boasting group campsites, the largest lake in the state, and recreational opportunities galore, the Oconee District is one not miss.



Chattahoochee-Oconee National Forests

-

Phone:

770 297-3000


Address:

1755 Cleveland Highway, Gainesville, GA 30501


Office hours:

Tuesday - Friday at 9 - 12 & 1-4 - Closed Saturday, Sunday, and Monday



Directs to OHV Trail

- From exit 130 on I-20, head north on Lake Oconee Parkway into downtown Greensboro,GA for approximately 2.7 miles. Turn right onto US 278 and travel .1 of a mile and turn left onto N East St. which turns into Penfield Rd. Travel 3.8 miles to Town Creek Trail follow signs to the trail head.



Town Creek OHV Trail GPS Location -

Latitude is 33.637603 and Longitude is -83.15584.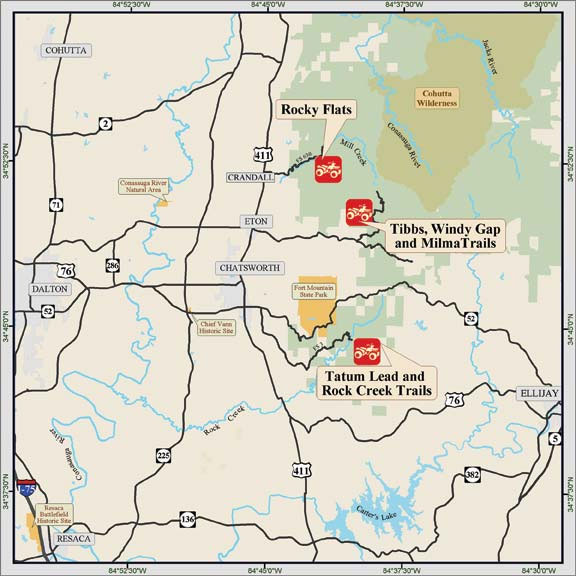 Multiple ORVs Vicinity Map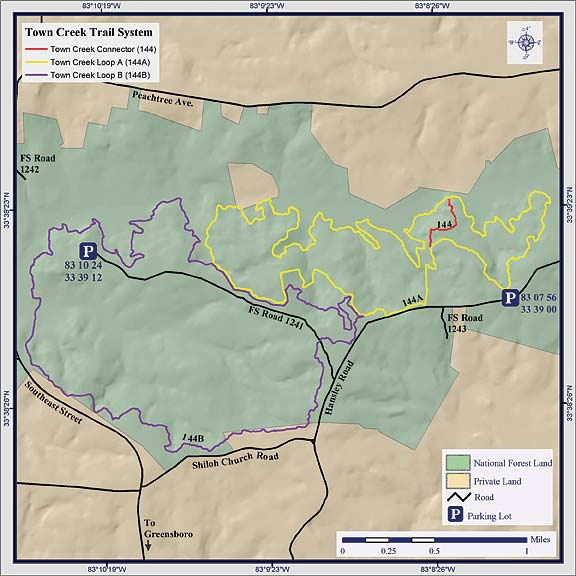 Town Creek ORV Trail System Map

Georgia US Forest:

Camping

Hiking

Horseback Riding Trails

Fishing

Canoe Trails

GA US Forest Wilderness

Wilderness Preparation

Canoe Safety Tips

Forest Safety Tips

GA U S Forest History