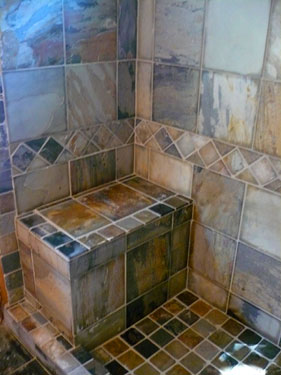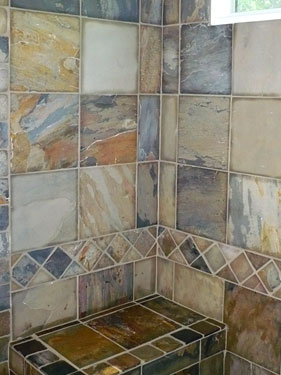 Most tile setters do not install heated floors. It takes special talent, skills and experience to install heated floors successfully.

Fortunately, Dickie "Done Right" Tile can service your needs! We're one of the only companies in North Georgia and Metro Atlanta that will install heated floors.

For this Master Bathroom Remodel, the fabricated shower was gutted and a Slate shower was installed.

The curb was extended, and the insert shelve and tiled were built around the window to the ceiling.

For extra luxury, a tile bench seat was installed and we inserted a pattern across the shower.

Everything was laid out to not run into anything else. Keeping the bathroom in flow, the shower layout followed onto the slate heated floor.

Installing a heated floor adds only minimal hours to your entire tile project. We carefully lay the heating wire mesh, cutting and folding it into place, in front of your sinks, toilets and main walking area. Tile is installed very carefully atop the mesh and wires. We check electronic devices throughout the process to ensure you have no problem when ready to warm your new tile floor.

"Wow" and "I love it" was all they could say. With a timer and temperature control, they're so glad they can just say no to rugs!