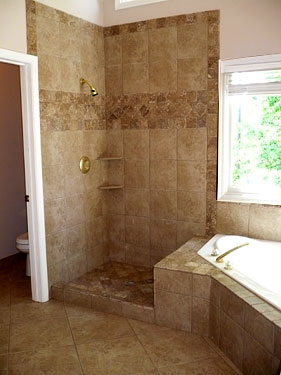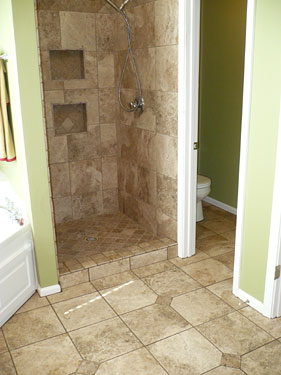 Here we have a Master Bathroom Tile Remodel. This project consisted of tearing out the existing tile shower and fabricated pan, tile tub surround and floor. Then we rebuilt and replaced everything with new tile.

By gutting the shower, we were able to offer this client an enlarged tile shower by extending the tile to the ceiling, extending the curb out and inserting the shelves.

To customize this Master Bathroom we used tumble marble as the tile cap and shower floor, ran a tumble marble pattern across the shower walls and installed tumble marble dots in the tile floor.

By using tumble marble as the cap and accents, our client received a more luxurious look at a lower price than the expensive custom cap and individually sold patterns or inserts.