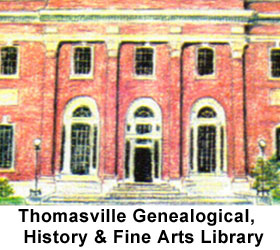 Find family histories, war records, state and county histories and census records.

A community is more than a collection of streets and buildings. It is a living, breathing entity with a specific personality - a personality which has as its foundation carefully preserved history.
It is the Mission of the Thomasville Genealogical, History and Fine Arts Library - a resource center for books on genealogy, history and fine arts - to be a place where the scattered fragments of our documented past can be assembled and maintained for posterity.

The Thomasville Genealogical, History and Fine Arts Library was founded in 1988, and has become a major repository of materials for family research with a major emphasis on the southern states, including Georgia, Virginia, South Carolina, North Carolina, Alabama, Tennessee, Mississippi, Florida and Kentucky are available, as well as Mid-Atlantic and New England holdings.

It provides a safe depository for individuals who wish to share documented family histories and records with present and future generations.

Call to learn how to participate in our program to acquire Confederate microfilm records by donation.



Amenities

- Public Restrooms, Accessibility for mobility-impaired



Open

Monday through Friday at 9 am - 5 pm and Saturday at 9 am - 4 pm



Phone

: 229-226-9640 -

Address

: 135 N Broad St., Thomasville Georgia - Thomasville Genealogical, History & Fine Arts Library Website



Free admission and parking, but donations are accepted.