Take a self-guided tour of sites significant to Thomasville's African-American history.
Thomasville Black Heritage Trail Tour Sites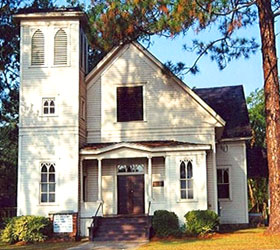 Thomas County Library Flipper Room, 102 North Madison St, Thomasville, GA
Lt. Henry Ossian Flipper was born a slave in Thomasville in 1856, yet he was the first Black to graduate from the United States Military Academy-West Point in 1877.



Lt. Henry Ossian Flipper Park, 800 North Broad St

- This park is dedicated in memory of Lt. Flipper who was born a slave in 1856. Lt. Flipper became the first Black American to graduate from the United States Military Academy - West Point in 1877.



Lt. Ossian Flipper's Grave and State of Georgia Landmark, 700 North Madison St


Lt. Flipper was reburied here in Thomasville on February 11, 1978, in Old Magnolia Cemetery.



Ephraim Ponder House, 324 North Dawson St

- A classical revival eclectic, this structure was once a dormitory for Young's Female College, (the large stone building behind this home). A breezeway connected the two buildings, and the Ponder Home had a large square cupola on the roof's apex. These two architectural features no longer exist. The Ponder Home was later turned into a private residence as it remains today.
Festus Flipper's Home, 430 Lester St

- A front gabled craftsman style cottage, Festus Flipper was a shoemaker and carriage trimmer. His business was located in the 200 block of S Broad St. He was one of Lt. Henry O. Flipper's brothers. He and his family lived in this home, which is now owned by Mr. Joe Watkins.



Old Magnolia Cemetery, 700 North Madison St

- One of the oldest Black cemeteries in the city, African-Americans born in slavery and after 1865 are buried here. Lt. Henry O. Flipper is buried here.



First Missionary Baptist Church, 110 W. Calhoun St

- Formerly First African Baptist. The First Missionary Baptist Church congregation first prayed at a building on the Southwest corner of Smith Ave and South Dawson St known as the Piney Woods Lots on April 2, 1853.



St. Thomas African Methodist Episcopal Church, 700 North Broad St


This church was organized in 1874 under a "Bush Arbor" on the spot where the church stands today. From the original "Bush Arbor" evolved a wooden structure with the entrance facing Webster St. In 1924 a major remodeling took place. The end product was the present off-white stucco building with entrance facing North Broad St.

Good Shepherd Episcopal Church, 515 Oak St - A fine example of late Victorian vernacular architecture, the original church was founded 28 years after the Civil War. A group of twenty-seven Negroes who were familiar with the services of the Episcopal Church desired a church of their own, and with help from members of St. Thomas Episcopal Church, Good Shepherd was built. The church was dedicated on April 8, 1894.



Bethany Congregational United Church Of Christ, 1122 Lester St

- The American Missionary Association served the religious needs of the black students at the Allen Normal and Industrial School (1885-1933). The church played a vital role in educating Thomasville black youth



Mount Olive Primitive Baptist Church, Corners of Fletcher and Jones Sts


A vernacular masonry church building showing Italianate classical influences, the original church was located on Bibb Alley. The structure of the church was wooden frame. In later years, it was moved to its present location under the leadership of Rev. C. B. Allen. The first and only black architect in Thomasville, Mr. J.C. Wright, rebuilt it in 1927.
More Historic Sites
115 Forrest St

- Douglass High School was an all-black high school that operated from 1902 to 1970. A marker was erected at the original school site in recognition of the many contributions by the Blacks in Thomasville and surrounding communities to education.



The Forrest Monroe, Sr., Heritage Educational Site, 'Midway Elementary County Grade School', Garrison Pilcher School Campus - Hall Road


A gabled front vernacular wood, one room school house. This school came from the Midway community and was donated to the Thomas Co school system by Mr. Forrest Monroe, Sr, in 1976.



Allen Normal and Industrial School's Memorial Landmark, 1122 Lester St


The school was built in 1886 and closed in 1933. See additional information about this school under, Bethany Congregational United Church Of Christ. Rev. Andy Young was pastor of this church in the mid 1950s.



Susie H. Dunlap Elementary School, 1000 Lester St


It is formerly named the Normal Park Elementary School. This was an all black school for many years until integration of the Thomasville City School system in 1970.



Recreation Center, 400 West Calhoun St


A gabled one story and a half brick and wood vernacular house with segmental brick arches over the first floor windows and massing derived from "colonial" pronto types, the Recreation Center was built by Mr. W. E. Gibson in the 1920's. The purpose of the house was to furnish a place where young black people could get together to socialize and have fun.



Clay St First YMCA For Blacks, Corners of Pine and West Calhoun Sts


A gabled front vernacular wood school, this structure was later used as Douglass High School's extended classroom. The late W. J. Varner, principal of Douglass High School, was the first part-time YMCA secretary. On May 1, 1928, it became the Colored YMCA.



Francis F. Weston Park, Felix St

- The Harvard family donated this land to the YMCA in 1948. In 1978 or 1979, it was leased to the City of Thomasville and was developed into a park. The park was named and dedicated in the memory of the late Francis F. Weston, who dedicated over 40 years to working for the local YMCA.



Francis F. Weston YMCA Center, 416 West Clay St

- This YMCA center is named in honor of an African-American, the late Mr. Francis Franklin Weston. The center was named in his honor in October of 1984 for his untiring work in the YMCA for over 40 years. In 1964, the local black and white communities raised over $125,000 to build this YMCA in the black community.



Thomas County Historical Society and Jack Hadley's Black History Memorabilia, Inc., 725 North Dawson St

- The African-American Life on the Southern Hunting Plantations--1900 thru 1940, Lt. Henry O. Flipper's Exhibit and the Allen Normal and Industrial School exhibit are located at this museum. Small fee to see the museum. Call 229-226-7664.



Thomasville Masonic-Prince Hall Lodge, 518 Lester St


A two-story gabled end vernacular Masonic Temple building with simplified classical entry portio, the Thomasville Masonic-Prince Lodge Hall is the oldest black Masonic lodge in Thomas County. The structure was built in circa 1904 by Brother Trailor, a member of Joppa Masonic Lodge No. 43. There is a permanent pictorial Masonic "Wall of Fame" an exhibit that can be seen by groups in this lodge hall by appointment. Please call (229-226-5029) or email jackhadleyblackhistorymuseum@rose.net to make arrangements for a group tour.



Rev. Frank D. Martin, Sr. Memorial Park, Corners of Fourth Ave and Magnolia St


This is the Old Providence Missionary Baptist Church Site. The old framed church was built in 1907 and was founded by Mother Mary Williams as a Prayer House.



Historical Black Business District, 300 Block, West Jackson St

- A separate section of this historic district developed around the turn of the century to serve Thomasville's black community. "The Bottom" as it was called was the hub of the black business community. (Listed on the National Register). Redevelopment is underway.



Ritz Theater Site, 323 West Jackson St

- It served as the main entertainment center for African-American residents and surrounding communities for many years. The theater site was owned by the Heritage Foundation, Inc. and had a restoration project underway until a decision by the foundation to have it demolished because of the cost to restore. The property is now owned by the city of Thomasville.



Imperial Hotel, 704 West Jackson St

- Built by the Lewis brothers in 1949 and operated until 1969 by Harvey and Dorothy Lewis Thompson, the Imperial Hotel is the only known black hotel in Thomasville's history.



Hadley Funeral Home, Inc., 622 North Broad St

- A Craftsman style brick gabled front cottage with projecting porch, this structure is the oldest black owned funeral home in Thomas County.
Stevens St Historic District
These homes are on the National Register of Historic Places; call the Stevens St Historic District. The survey work was completed by Thomasville Landmarks, Inc. and the Black community living on the following Sts: W. Calhoun to Oak - Monroe, Stevens, Pine, West Clay, West Washington, Jefferson, Webster, Walcott, Jerger, Short and Forsyth Sts.



The W. E. Gibson's Family Home, 308 West Calhoun St


A two story side hall temple front house with full two story columns and pediment showing strong classical revival influence, this house was built in the early 1900's by W.E. Gibson, an outstanding bricklayer. The house was stuccoed like most of the Florida homes. The house had a cement fence, which made it stand out.



Dr. William A. J. Mosley's Home, 523 North Stevens St

- An antebellum two story central hall, vernacular house with modernized porch, end chimneys and rear one story wing, this Stevens St structure was home to Dr. William A. J. Mosley. Dr. Mosley, a black medical doctor, maintained a family medical practice in Thomasville from 1913 to 1930s.



Dr. Martin Luther Walton's Home, 323 West Monroe St

- The Walton home is a temple front classical revival cottage with craftsman style brackets under the rake of the gabled roof. Dr. Martin Luther Walton was born in 1893 and died in 1954.



The Emma and Sam Young's Home, 319 Oak St

- In 1833, a two story gabled and temple front two story house with wrap around porch was built. Since 1909, has been in Young family .



Mr. Joseph Young's Home, 315 Oak St

- A gabled temple-front cottage with craftsman style porch columns and brackets along a rake of cornice, this home was periodically used as a rooming house. Joseph Young owned one of a few taxicabs in Thomasville, and often brought roomers who needed accommodations to his home for the night when they arrived on the train or at the bus depot.



Dr. Samuel H. Wilson's Home, 519 South St

- A temple front craftsman style cottage with classical revival columns and detailing around the front door, the original house was two-story until it was damaged by fire. When it was remodeled, the top level was removed.



Pebble Hill Plantation, U. S. Hwy. 319 South, 7 miles south of Thomasville


Plantations in the Thomas County Historical Society and the Jack Hadley's Black History Museum were donated from the Pebble Hill Plantation's archives, Peter Hjort's and Jack Hadley's Black History Family collections. Daily Tours to Pebble Hill Plantation are available. Please call Pebble hill Plantation at 229-226-226-2344 for more information. THOMASVILLE IS WORTH THE TRIP!

The Jack Hadley Black History Memorabilia, Inc. will make your VACATION/REUNION visit a pleasurable one while you are visiting the great city of Thomasville. "The City of Roses." The city that is worth the Trip! We will step aboard your chartered bus, school bus, van or private vehicle and broaden your knowledge of the African - American Historical Sites here in Thomasville, Georgia.

To Schedule a ~STEP ON - STEP OFF~ Thomasville Black Heritage Trail Tour or to receive more information, contact: Jack Hadley Black History Memorabilia, Inc.
James "Jack" Hadley, 214 Alexander St, Thomasville, GA 31792
Office phone 229-226-5029 & FAX 229-226-5084
Amenities and Hours
Parking and Accessibility for mobility-impaired.

Open

daily.
Contact, Address & Website
Phone:

229-228-7977 and 866-577-3600 -

Address:

401 S. Broad St., Thomasville Georgia 31792 - Thomasville Black Heritage Trail Tour Website
Loading


Print a Plantation Trace Travel Region Map

Plantation Trace Fun:

Festivals & Events

Free Indoor Activities

Activities $5 & Under

Tourist Centers

Travel Region Info