Tallulah Gorge is 2 miles long and nearly 1,000 feet deep. You can hike rim trails to several overlooks, or you can obtain a free permit to hike down to the gorge floor.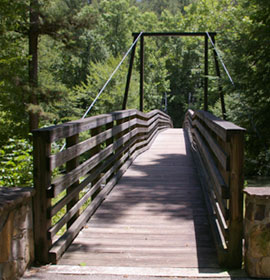 A suspension bridge sways 80 feet above the rocky bottom, providing spectacular views of the river and waterfalls.

Exhibits in the park's Jane Hurt Yarn Interpretive Center highlight the rich history of this Victorian resort town, as well as the rugged terrain and fragile ecosystem of the area. Additionally, an award-winning film takes viewers on a dramatic journey through the gorge.

Permits are required for all people accessing the gorge floor or rock climbing/rappelling. The only approved trail for entering or leaving the gorge floor is the Hurricane Falls staircase.

Both the Hurricane Falls staircase and gorge floor are very strenuous. Trails entering or exiting the gorge, as well as those on the gorge floor, are very strenuous. Visitors with health problems should not attempt to climb these trails. Children MUST be closely supervised at all times.

Tallulah Gorge State Park is operated by a public-private partnership with Georgia Power Company. Many facilities, including the campground, are operated by Georgia Power rather than the Department of Natural Resources.

Due to access restrictions on private property, the original Sliding Rock Trail is closed. Sliding Rock pool is accessed by hiking the Hurricane Falls staircase. GORGE FLOOR PERMIT REQUIRED.



NOTE:

See the video at the bottom of this page.
*Indicates operation by Georgia Power; Friends discount is not honored at Georgia Power operations.

2,739 Acres

63-Acre Lake with Beach

*

(seasonal)

50 Tent, Trailer, RV Campsites*

3 Backcountry Adirondack Shelter

Picnic Shelter

*

1 Pioneer Campground

Interpretive Center & Film

Gorge Overlooks

Suspension Bridge

Tennis Courts

*

Picnic Tables

*

Gift Shop
Recreational Actitivities

GeoCaching

Whitewater & Aesthetic Water Releases

Hiking and Mountain Biking – more than 20 miles of trails, Canyon Climbers Club, Muddy Spokes Club, free permit required for gorge floor access

Bicycling – 1.7-mile paved "Rails to Trails" path

Swimming

Fishing

Picnicking

Ranger Programs

Archery
Permits
Free permits are required to access the gorge floor and can be obtained at the Interpretive Center. Visitors must wear proper footwear to obtain a permit -- no flip-flops or crocs. Permits will not be issued after 4 p.m. Permits limited to 100 per day. On busy days, permits may run out early in the morning. Permits are not transferable. Groups of 20 can get permits on Saturday and Sunday only. Groups of 30 can get permits Monday through Friday only. To protect the natural resource, no groups larger than 30 are allowed. Weather and water flow conditions can restrict gorge floor access.
High Bluff and Stoneplace Trails
This moderately difficult out-and-back trail system has a 2 mile moderately technical section of trail called the High Bluff trail. It terminates into older road beds which become the Stoneplace trail and descends to the Stoneplace boat ramp on Lake Tugalo. Once you get to the boat ramp, the ride back is all ascending. Lake Tugalo is a primitive lake formed by the Chattooga and Tallulah rivers.
Pet Rules
For animals' safety, pets are not allowed on the gorge floor or on any trail accessing the gorge. Leashed pets are still allowed on rim trails.
Hunting
During deer hunting season is mid-September through January 1. Stoneplace Trail permits will not be issued until after 10 a.m. and hikers/bikers are encouraged to wear reflective orange.
Water Flow
On a typical day, the water flow through the gorge is 35-40 CFS (cubic feet per second). During aesthetic releases, the flow is 200 CFS, and during whitewater releases, the flow is 500 CFS on Saturday and 700 CFS on Sunday.

Hours and Fees

Park Hours: 8AM–Dark.

Interpretive Center Hours: 8AM–5PM

All visitors must register at the Visitor Center. -

$5

Parking Fee.
Contact - Address & Location
Phone - Park

706-754-7981 -

Camping

706-754-7979 -

Picnic Shelters

706-782-4014 -

Address:

338 Jane Hurt Yarn Drive, Tallulah Falls, GA 30573 -

GPS Coordinates:

N 34.739750 and W -083.395233 -

Located

on U.S. Hwy. 441 within the city limits of Tallulah Falls Georgia
Tallulah Gorge State Park Video
Video of Tallulah Gorge State Park
Loading