Located on the Tallulah Gorge Scenic Loop, the Gallery presents various forms of fine art including original paintings, pottery, raku, folk art, sculpture, fiber art, jewelry, furniture, photography, books and prints.
General Info
Since the 1970s, Tallulah Gallery's mission has been to promote the arts and support artists in the Northeast Georgia mountains.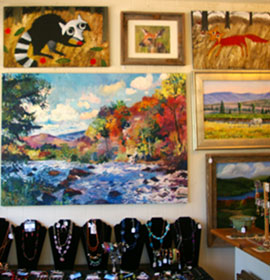 This gallery is worth stopping by to see interesting southern art. It is larger than it appears from the outside. It has 5 large rooms full of southern arts and crafts. Most of the items are made by local folk artists. The artists are from Georgia, North Carolina and Alabama. If you are looking for a unique special gift, you will likely find it here.

While you are here, you may want to visit the Tallulah Falls School Museum. It is a historic 2-room cottage built in 1931. You will need to call to schedule an appointment to see this museum.

Also, in the local area is the Tallulah Gorge State Park. See park info, pictures and a video here.



FREE admission and parking.
Gallery Items
Jewelry & Blown Glass

- Jewelry lovers will find handcrafted one of a kind treasures made of gold, sterling, precious stones, inlaid wood and dichroic glass, as well as blown glass. There are garden globes of all sizes and colors to be enjoyed all season.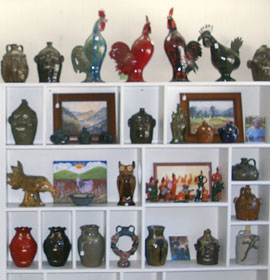 Paintings & Prints - Oil paintings, watercolors, pastels and mixed media adorn our walls with beautiful scenes of the mountains, lakes and wildlife that are so breathtaking in this area. We carry a wide variety of prints including Cornbread, John Kollock prints as well as professional photography.



Pottery

- Folk art pieces include works by the members of Meaders, Hewell, Ferguson andCrocker families, and fantastic pieces by Charlie West and Clint Alderman.



Woodcraft

- Purple poplar, spalted maple, ebony, box elder, black walnut, magnolia and red cedar are just a few of the beautiful woods that our master wood turners craft into precious pieces of art. There are miniatures and pen/pencil sets, in addition to bowls and plates.



Books

- The Gallery's book section has something for enthusiasts of all ages. Looking for that special recipe, a child's book, humor or just a book to unwind with, you won't be disappointed. Many of our authors are from the South and paint as well as write. Music from Jim Gibson and Stanton Lanier is available on CD.



Hours, Phone & Address -

The Gallery is open Monday through Saturday from 10 am until 12 pm, and from 1-5 pm. It is open everyday except on Christmas and Independence Day.

Phone:

706-754-6020

Address:

580 Tallulah Gorge Scenic Loop, Tallulah Falls, GA 30573 -
Loading


Print a Northeast Georgia Mountains Travel Region Map
NE Georgia Mountains

Festivals & Events

Free Indoor Activities


Free Outdoor Activities

Tourist Centers

Travel Region Info