See ship models, paintings and maritime antiques, principally from the great era of Atlantic trade and travel between England and America during the 18th and 19th centuries.
Exhibits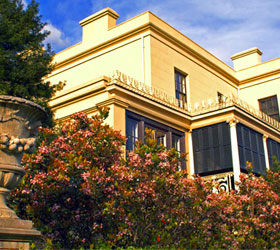 Ship Collection - See Ship Displays info below.



Scarbrough House

is the elegant setting for the Museum's collection of ship models, paintings and maritime antiques. It was built in 1819 for one of the principal owners of the Savannah, the first steamship to cross the Atlantic Ocean. The Museum's Collection is housed in the elegant home built for William Scarbrough, one of the principal owners of the Steamship Savannah and president of the Savannah Steamship Company.



Garden

- The Ships of the Sea Maritime Museum housed in the William Scarbrough House is home to the largest garden within the historic district of Savannah. Whether you visit the museum by walking along the fig-covered wall to the garden gate or arrive by car, the visitor's first impression is a riot of color seen in the flower beds at the entrance. Through careful planning and sensitive plant selection the Museum Garden has become a delightful oasis; a place to sit and meditate as well as an excellent tool for the experienced horticulturist and weekend gardener.



Online Exhibits

- The Museum's online exhibits provide supplemental information on subjects featured at or supported by Ships of the Sea.



Amenities

: Parking, restrooms and party facilities
Ship Displays
City of Savannah

- This extraordinary vessel, 245 feet long, 38 feet wide and iron hulled, was partly powered by sail and partly by steam.



The Anne

- In the fall of 1732, the Anne sailed to America carrying the first 144 colonists--some forty families--to the new colony of Georgia. Anne was a 200-ton British galley, only 87 feet long and 26 feet wide.



The Steamship Savannah

- Financed by William Scarbrough, launched in New York in 1818 with engines installed soon thereafter in New Jersey, Savannah, though only 98 feet long, became one of the most important vessels in maritime history--the first steamship to cross the Atlantic Ocean.



The Wanderer

- The importation of slaves to America was outlawed in 1808, but from time to time vessels attempted to bring slaves illegally from Africa.



The Titanic

- There would be larger ships and worse disasters at sea, but the sinking of Titanic will always be the most famous.
Hours of Operation
Open Tuesday - Sunday at 10 am - 5 pm
Contact - Address & Website
Phone

: 912-232-1511 -

Address

: 41 Martin Luther King Blvd., Savannah Georgia 31401
Ships of the Sea - Maritime Museum Website
Loading



Print a Georgia Coast and Islands Travel Region Map
Visit:

Savannah Squares

Coast - Islands National Parks

Georgia Coast - Islands

GA Coast Events

Coast Free Things To Do

GA Coast Fishing Lakes

Georgia Coast Museums

Georgia Coast Shopping

GA Coast - Islands Map & Travel Region