This Indian trail, which later became a stagecoach route, dates back to 1670. Travel dirt roads and enjoy a nostalgic ride throughout Jasper County.
Traces of a road deep into the nation's Indian, Revolutionary, and Civil War history are still around in Jasper county, and historians want to bring it back to life. They believe it belongs on the National Register of Historic Places.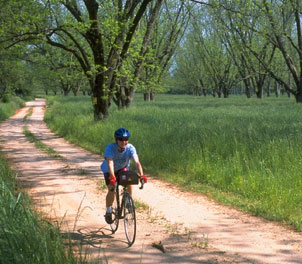 It's not just another stretch of Georgia red clay. "It's the oldest dirt road known to Western man," said Pam Hammonds, executive director of the Jasper County Chamber of Commerce, who's part of an effort to have a dirt road not just placed on the National Register of Historic Places but also made into a tourist trail.

The Seven Island Stagecoach Road runs through much of Jasper County and cuts to the very core of Georgia history. Before there was a recorded history of this continent, American Indians formed and used the trail for hunting trips from their settlements at a shoals area of the Ocmulgee River that came to be called Seven Islands.

The Seven Islands of the Ocmulgee was mentioned as a trading point in accounts of Carolina fur traders that go back as far as 1670. In 1730, famed naturalist William Bartram described the area in his journals as having an Indian settlement of about 1,400 people. Up until 1790, when George Washington negotiated a treaty with the Creek Indians ceding land for a stage coach trail that would connect Augusta with Mobile, Ala., Seven Islands was where America ended and the Indian lands began.

The Seven Island Stagecoach Road became a valuable route for cotton planters, who shipped their cotton down the Ocmulgee River to mills near "Seven Islands," which grew into a thriving commercial area. Stagecoach stops became settlements and, later, a few grew to towns.
Road Marker Inscription


The Seven Islands - Alabama Road - was an important emigrant route to the west. Travelers from northeast Georgia and the upper Carolinas followed this trace to the Mississippi Territory, Louisiana, and later Texas.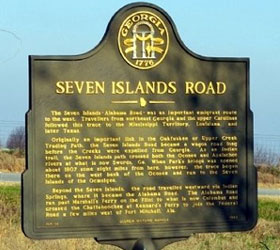 Originally an important link in the Oakfuskee or Upper Creek Trading Path, the Seven Islands Road became a wagon road long before the Creeks were expelled from Georgia. As an Indian trail, the Seven Islands path, crossed both the Oconee and Apalachee rivers at what is now Swords, Ga. When Park's bridge was opened about 1807 some eight miles from here, however, the trace began there on the west bank of the Oconee and ran to the Seven Islands of the Ocmulgee.

Beyond the Seven Islands, the road travelled westward via Indian Springs, where it became the Alabama Road. The Alabama ran past Marshall's Ferry on the Flint to what is now Columbus and crossed the Chattahoochee at Kennard's Ferry to join the Federal Road a few miles west of Fort Mitchell, Ala.

Free parking.





Phone

: 706-468-8994 -

Locations

: Hwys 212, 83, 11 and 16, Monticello Geprgoa - Seven Islands Trails Website


Print a Historic Heartland Travel Region Map

Historic Heartland Fun:

Festivals & Events

Free Indoor Activities

Free Outdoor Activities

Tourist Centers

Travel Region Info