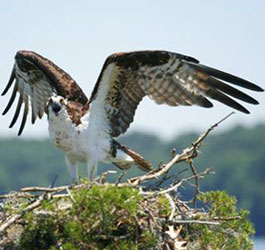 This 604-acre park is on beautiful Lake Seminole, a 37,500-acre reservoir with excellent boating, fishing and birding. Cottages, campsites and picnic shelters sit near water's edge. They offer excellent views and access to the lake.

Wildlife - Because the park surrounds a small cove, visitors usually enjoy smooth water for skiing and tubing. A sand swimming beach is also provided for lake lovers. Wildlife is abundant throughout Seminole, and a nature trail leads past gopher tortoise burrows, a wetland boardwalk and one of the largest Longleaf Pine forests in a Georgia state park. Observant visitors may also see alligators, osprey, bald eagles and other wildlife. Nearby wildlife management areas provide great duck and deer hunting.
Park Amenities


On Lake Seminole Reservoi r

46 tent, RV and trailer campsites

Primitive tree house campsite that sleeps 15 people

1 pioneer campground

14 cottages - some are dog friendly

1 group shelter that sleeps 75 people

5 picnic shelters

Miniature Golf (fee)

Lake swimming beach

5 boat ramps

3 boat docks

Kayak and Canoe Rental

2.2-mile gofer tortoise hiking trails - see gofer tortoise burrows

Wetland boardwalk

Geocaching

Playground

Wildlife animals

include gopher tortoise, alligators, osprey and bald eagles

Parking

Public Restrooms

Accessibility for mobility-impaired

Gift Shop
Campgrounds


40 foot Campsites hold the following equipment: 1 tent, 2 tents, a pop-up trailer, a trailer up to 40', or a motorhome up to 40'. Waterfront sites are first come, first served. The Gopher Tortoise Nature Trail has an entrance nearby. Each sites has water, 30 amp electrical service, picnic table, grill, and fire ring. No cable hookups. Maximum 6 people per site. Maximum 2 vehicles per site.
Pioneer Campsite

- This is a primitive, rugged site for groups only. 10 person minimum. Site is located by itself. Site has no electricity. Water is now available. This site has pit toilets. Campground bathing facilities are not available to pioneer campers. Vehicles allowed, max of 30.
Treehouse Camping

- Primitive treehouse style camping. 30 x 30 screened-in covered shelter on raised stilts. Built-in benches surround outer floor spaces if treehouse. No water or power. Pit toilet. Maximum number of people 15. Sleeping bags, air mattresses or blanket pallets only. No tents allowed inside treehouse.
Picnic Shelters - All visitors are required to have ParkPass.
Picnic Shelter #1

- Open-sided covered shelter, located very close to water with good access to beach area, mini golf, and restrooms. Has one grill. Maximum 30 vehicles.
Picnic Shelter #2

- Open-sided covered shelter, located close to swimming area, playground, restrooms, and office. Lake access. Has grill and tables. Maximum 30 vehicles
Picnic Shelter #3

- Open-sided covered shelter, located close to restrooms and playground. Excellent lake access. Shelter has water, electrical outlets, and grill. Maximum 30 vehicles.
Picnic Shelter #4

- Open-sided shelter on the lake. Shelter has water, electricity, and grill. Maximum 30 vehicles.
Picnic Shelter #5

- Open-sided covered shelter, located in wooded area by miniature golf course. Not near the water. Shelter has water, electricity, and grill. Maximum 25 vehicles.
Cottages


Cottage 3 is handicap accessible. Cottages 3-12: Two bedroom cottage. Each bedroom has two double beds and one half bath. Half baths share one shower. Sleeps 8. Bed and bath linens provided. Fully equipped kitchen with coffee maker and microwave. Heat/AC. Satellite TV. No phone. Screened porch with rocking chairs. #3 has a fold out bed in living room to take the place of bed missing from handicap accessible room.
Group Shelter
Enclosed shelter. Screened in. Near mini-golf. Area is shady. Has heat/air. Has a stove, refrigerator, sink, large grill, outside tables, outside water and restrooms. All visitors are required to have parkpass.
Hours and Fees
Park Hours

- 7 am - 10 pm -

$5

Parking Fee
Contact, Address and Driving Directions Info
Park Phone -

229-861-3137 at 8 am - 5 pm -

Campsite and Cottages Reservations:

1-800-864-7275 -

Address:

7870 State Park Dr., Donalsonville Georgia 39845 -

GPS Coordinates:

N 30.805016 and W -084.879200 -

Located

16 miles south of Donalsonville via GA Hwy 39, or 23 miles west of Brainbridge on GA Hwy 253. Park Facilities Map
Reservations Cancellation Policy

Cancellation of a reservation must be made at least 3 days prior to the date of arrival in order to receive a refund. A cancellation/handling fee per reservation will be charged. Changes in arrival date made less than 3 days prior to the scheduled arrival will constitute a cancellation and forfeit of the deposit. 7-14 day Cottage Reservation Guidelines: All cancellations received 30 days in advance will receive deposit refund minus a cancellation fee per facility.

If a customer requests to cancel less then 30 days in advance but before 72 hours of arrival, the customer may request refund in witting to the site. If cottage is rebooked for the time period originally reserved, site will have Customer Service issue a full refund to the customer minus a cancellation fee. If reservation is cancelled within 72 hours of arrival date no refund of the one night deposit will be given. Deposits are required for all reservations. Credit card deposits are posted when the reservation is made.
Check-in

- Check-in is between 1 pm and 10 pm and check-out is before 1 pm. Campers must register and present a reservation confirmation before setting up. If you do not arrive on the first night of your stay, you will be counted as a no-show, your reservation will be cancelled, and you will forfeit your deposit.



Reservation Changes

(Changes in arrival dates, transfers, etc.) You may make one change without a charge, provided a 3-day notice is given. Additional changes will incur a per reservation handling fee.
Loading