Pre-Columbian mounds surround Scull Shoals, a now-defunct village marked by slavery, fires, floods and droughts. Spring archaeology digs.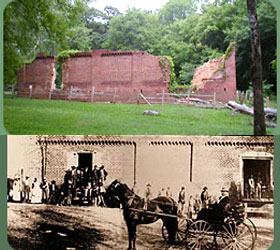 Located in Greene County, Georgia, Scull Shoals is a Historic Recreation Area in the Oconee National Forest. It was home to Georgia's First Paper Mill, Water-Powered Sawmill, Grist Mill, and Textile Mills.

Native Americans have lived around Scull Shoals for over 10,000 years, and possibly longer. Scull Shoals village began as a frontier settlement in 1782, and in 1793, after several Indian raids, residents erected Fort Clark. The settlers began to expand rapidly across the Oconee River after the treaty of 1802.

White settlers and black slaves quickly opened up the land. Following Eli Whitney's 1793 invention of the cotton gin, they began to raise cotton in huge quantities. The local villagers began with a gristmill and sawmill, and soon had a cotton gin.

Today, only three walls of the brick warehouse and store remain, along with the arched brick bridge that took workers across the raceway into the mills. Stone foundations of the old mill's power plant and scattered stone and brick chimney bases can be found in the downtown village and out in the surrounding woods. Remains of the wooden covered toll bridge stand in the Oconee River.



Phone

: 706-453-7592, 866-341-4466 -

Address:

Macedonia Church Rd, Greensboro Georgia 30642 Scull Shoals Mill Village Website



Call for hours. Free admission and parking.
Contact & Address


Classic South GA Travel Region Printable Map

Classic South Fun:

Festivals & Events

Free Indoor Activities

Fun Activities $5 & Under

Tourist Centers

Travel Region Info