Sawnee Mountain Stands! For thousands of years this mountain has stood as a highly visible landmark and an anchor to inhabitants of North Georgia.
In the distance, the blue outline of Mount Oglethorpe rises as part of the southern Appalachians. At 1967 feet above sea level, Sawnee is nearly 300 feet taller than Georgia's Stone Mountain, but less than half as high as Brasstown Bald, the state's highest peak. Sawnee Mountain stands as an enduring national landmark in Forsyth County.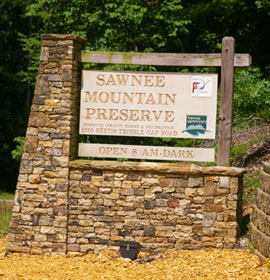 Sawnee Mountain Preserve is a fun place to visit for people of all ages. It's a very scenic place with lots of wonderful hiking trails, children's playgrounds, picnic areas, gardens and more.

The 5,600-square-foot visitors center features interactive exhibits and a reading and relaxing area. The 720-acre park has hiking trails and areas for rock climbing and rappelling, which require a permit from the available at the visitors center. The park also has a 140-seat amphitheater for concerts, storytellers and plays. Great place for birthday parties.

If you are in the northeast Georgia mountains area and are looking for something to do, you'll want to check this place out. It is open 8am until dark. There are some ADA facilities.

2 Locations: Currently there are two parking areas and trailheads. One located at the Visitor Center at 4075 Spot Road and 2500 Bettis Tribble Gap Road in Cumming, Georgia.



Free admission and parking.





See the Sawnee Mountain preserve video at the bottom of this page.

| | |
| --- | --- |
| | |
| Indian Statue at Preserve | There are several fun playgrounds here. |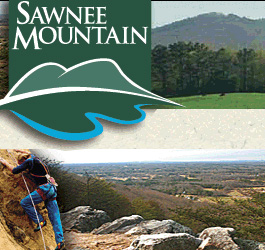 It is arguably the southernmost summit in the Blue Ridge range, making it the first link in the Appalachian chain, which reaches all the way to Maine. On the eastern ridge, runoff from boulders balanced on a rock outcropping slowly carved three uniform depressions in the stone. Those boulders eventually weathered, split and toppled down the north face, exposing what we now call the Indian Seats. The seats and the adjacent natural clearing may have served some ceremonial purpose for Native American inhabitants (Woodlands culture, later replaced by Mississippian, Muscogean, Creek and Cherokee) dating as far back as c. 500 B.C.E.

When white settlers entered the area in the early 1800's, a minor chief of the Cherokee Nation welcomed them. A skilled carpenter and farmer, Sawnee helped them build their homes in the area around present-day Cumming. Settlers agreed that Sawnee was one of the kindest and most giving people they had ever known. When he died, the grateful local citizens named the mountain in his memory.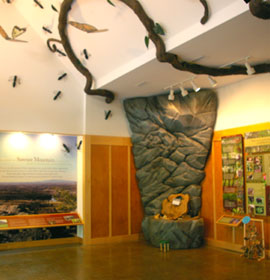 Even before the major strike at Auraria in 1829, gold had been discovered all over them thar hills and at several sites in present day Forsyth County. As late as the early 1900s, white settlers sunk pits and dug caves all over Sawnee Mountain looking for the yellow metal. The only promising sites were along the south face of the eastern ridge, but mining efforts were eventually abandoned because of the enormous cost of extracting the gold.

As the county grew, Sawnee Mountain remained virtually untouched by development until AT&T built a long line microwave transmission tower in the 1950s. Later, the Barker family built a home on the saddle of the west summit, and several more homes were eventually built.

Sawnee Mountain has survived fires, tornadoes, timber clearing, development and the search for gold. In the midst of whirlwind growth, Sawnee stands unchanged -- preserved for county residents and visitors to enjoy for generations to come.
Hours of Operation, Contact - Address & Website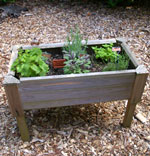 Visitor Center: 8:30 am - 5 pm weekdays and 10 am - 5 pm Sat.

Trails

open daily 8 am until dark. The Preserve is closed nights, Thanksgiving Day, Christmas Eve, Christmas Day and New Year's Day. Entrance gates are locked after hours for site security. Vehicles left unattended after dark will be locked in or towed.

Phone

: 770-781-2217 -

Addresses

: 4075 Spot Road and 2500 Bettis Tribble Gap Road in Cumming, Georgia. - Sawnee Mountain Website

See a bird's eye view of this amazing natural wonder.




Print a NE GA Mountains Travel Region Map
NE GA Mountains Fun:

Festivals & Events

Free Indoor Activities

Tourist Centers

Travel Region Info