Enjoy exploring Savannah's charming local parks walking and bike riding trails.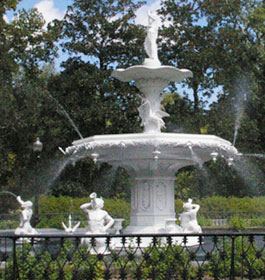 Savannah Georgia Walking Trails


Daffin Park

- The paved sidewalk completely outlines the perimeter of Daffin Park and is 2 miles around. The concrete sidewalk is eight feet wide and has no incline, which makes it handicapped accessible. For a shorter walk, try the lighted sidewalk around Daffin Lake – it's 1/3 mile around.



Forsyth Park

- This is the southernmost boundary of the historical district. Paved, lighted sidewalks are handicapped accessible and surround Savannah's most popular walking trail. The distance around the 30-acre park is 1.5 miles. The northern part of the park has 44 trees per acre with the predominant tree being the Live Oak and the predominant shrub being the azalea.



Bowles Ford

- Lighted, paved walking trails surround the 16-acre lake. The distance around is .07 miles. Bowles Ford is located just off Stiles Avenue, near the Cloverdale neighborhood.
Tatemville Park

- Lighted, paved walking trails surround the 20-acre lake. The distance around is .07 miles. Tatemville is located just off Staley Avenue, turn right off Staley Avenue on Coleman Street.



Savannah-Ogeechee Canal

- Stroll through scenic river swamp forest along old Jenkes Toll Road; there are some rough sections. Children are welcome; dogs on a leash are permitted. Members free, adult visitors $2, Seniors $1, Children $1. The Savannah-Ogeechee Canal is off GA 204 , 2.3 miles west of I-95. The site includes locks 5 and 6 of the original canal that began operation in 1831.



McQueen's Island Nature Trail

- Six miles of nature and beauty, the trail - a converted railroad track that parallels U.S. Highway 80 - once carried passengers to and from Tybee Island. Presently, the trail is approximately 6 miles in length and 10'-20' in width. Its inhabitants include a wide range of wildlife species, such as, the Diamond Back Terrapin, Eastern Box Turtle, American Alligator and even an occasional Bobcat. Birds nesting or feeding in the area are almost too numerous to mention, but include Osprey, Great Blue Heron, Red-tailed Hawk, Brown Pelican and Willet. Located just past Bull River, the trail runs along Tybee Road's causeway.



Mohawk Lake

- The 17-acre lake located at 1132 Mohawk Street offers open space and fishing.



Joe Tribble Park

- This 51-acre park located at 12519 Largo Drive in the Windsor Forest Neighborhood includes an 11-acre lake, .568 miles paved and lighted sidewalk, open space, and the park is handicapped accessible.
Savannah Georgia Bike Paths




West to East Corridor

- 52nd Street to Ward Street to LaRoche Avenue to the entrance of Savannah State University.



North to South Corridor

- Habersham Street to Stephenson Avenue to Hodgson Memorial Drive to Edgewater Drive to Hillyer Drive to Dyches Drive to Lorwood Drive to Tibet Avenue to Largo Drive to Windsor Road to Science Drive.



McQueen's Island Trail

- U.S. Highway 80 East, the trail provides 6 miles for hiking and biking between Bull River and Fort Pulaski.
Contact Info
Phone

: 912-351-3841 or 912-351-3842 -

Parks Contact

: Chatham County Parks & Recreation Department. 7235 Sallie Mood Drive, Savannah Georgia 31406 -

Parks Service Website
Loading

Visit:

NPS GA coast and Islands

GA coast and Islands

GA Georgia coast Events

Coast Free Things To Do

GA Coast Fishing Lakes

Georgia Coast Museums

Georgia Coast Shopping

GA Coast and Islands Map & Travel Region