Savannah NWR was established April 6, 1927. It has over 29,000 acres of freshwater marshes, tidal rivers and creeks and bottomland hardwoods.
The refuge is located in the heart of the Lowcountry, a band of low land, bordered on the west by sandhill ridges and on the east by the Atlantic Ocean, extending from Georgetown, South Carolina to St. Mary's Georgia.

Known for it's rich flora during the humid summer months, the region also supports a diverse wildlife population. The variety of birdlife within the Low country is enhanced by its location on the Atlantic Flyway. During the winter months, thousands of mallards, pintails, teal and as many as ten other species of ducks migrate into the area, joining resident wood ducks on the refuge. In the spring and fall, transient songbirds stop briefly on their journey to and from northern nesting grounds.

Savannah NWR is one of seven refuges administered by the Savannah Coastal Refuges Complex. This chain of national wildlife refuges extends from Pinckney Island NWR near Hilton Head Island, South Carolina, to Wolf Island NWR near Darien, Georgia. Between these lie Savannah Georgia (the largest unit in the complex), Wassaw, Tybee, Harris Neck, and Blackbeard Island refuges. Together they span a 100-mile coastline and total over 56,000 acres. The Savannah Coastal Refuges are administered from headquarters located in Savannah Georgia.



Amenities:

Parking, Public Restrooms and Accessibility for mobility-impaired.



Free admission and parking
Wildlife Observation and Photography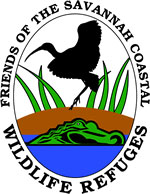 All dikes are open to foot travel during daylight hours, unless otherwise posted, and provide excellent wildlife observation points. Waterfowl are most abundant from November through February, while alligators and other reptiles are frequently seen from March through October.

Birdwatching opportunities are good all year but are best from October through April when temperatures are mild and many species of waterfowl and other wintering birds are present.

Motorists are welcome on the Laurel Hill Wildlife Drive, off SC 170, which meanders along four miles of earthen dikes through managed freshwater pools and hardwood hammocks. The Cistern Trail and other walking routes are also available to the visiting public.

From December 1 to February 28, entry into the impoundment area north of SC 170 is prohibited to reduce disturbance while wintering waterfowl numbers are at a peak.
Environmental Education and Interpretation
Environmental education programs and interpretive tours are available for school, civic and conservation groups by appointment only. These tours are generally given by trained refuge volunteers and therefore require a minimum of two-weeks notice. Interested parties should also be prepared to have alternative, acceptable tour dates. For further information or to schedule a program or tour, please contact the Savannah Coastal Refuges Complex headquarters
Contact - Directions & Website Info
Phone

: 843-784-2468 -

Directions:

Take GA Route 25 E out of Port Wentworth, GA, cross the Savannah River and you are on the refuge. Proceed 3 miles east and on the right is the Laurel Hill Wildlife Dr.

The Savannah National Wildlife Refuge Visitor Center is located on U.S. Hwy 17 in Jasper County, South Carolina, approximately 6 miles north of downtown Savannah, Georgia and 7 miles south of Hardeeville, South Carolina. The Visitor Center is open Monday through Saturday, 9am-4:30 pm. Other areas of the refuge are open to wildlife-dependent recreation activities during daylight hours, seven days a week. Please consult with refuge staff at the Visitor Center prior to visiting for information on what areas are open and what kinds of activities are permitted.

Savannah Georgia National Wildlife Refuge Website
Loading

Visit:


NPS Coast and Islands


Georgia Coast - Islands


GA Coast Events


Coast Free Things To Do


GA Coast Fishing Lakes


Georgia Coast Museums


Georgia Coast Shopping


GA Coast and Islands Map & Travel Region