Gray's Reef National Marine Sanctuary is one of the largest near shore live-bottom reefs of the southeastern United States.

It encompasses 22 square miles (about 14,000 acres) of live-bottom and sandy bottom habitat as well as the overlying water column. Direct access to the reef itself requires experience in open-ocean diving; so the opportunities for a first hand encounter with the Sanctuary for novice divers are limited. However, the Sanctuary is popular with recreational anglers, boaters and more experienced divers.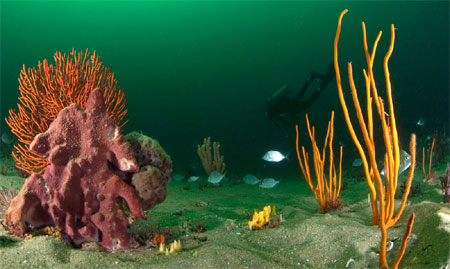 It is just one of 14 marine protected areas that make up the National Marine Sanctuary System that encompass more than 150,000 square miles of marine and Great Lakes waters from Washington State to the Florida Keys, and from Lake Huroon to American Samoa; and one of three marine sanctuaries that make up the Southeast Region. It is governed by the National Marine Sanctuaries Act and managed by the National Oceanic and Atmospheric Administration (NOAA).

Gray's Reef National Marine Sanctuary is the only natural area protected off the Georgia coast. The 17.5 square nautical miles (about 11,000 acres) of Gray's Reef is just a tiny part of the vast Atlantic Ocean off the Georgia coast, yet its value as a natural marine habitat is recognized both nationally and internationally.

Within the sanctuary there are both rocky ledges and sandy flat places. Gray's Reef is not a coral reef such as those found in the tropics. It is not built by living hard corals as tropical reefs are. Instead it is a consolidation of marine and terrestrial sediments (sand, shell and mud) which was laid down as loose aggregate between six and two million years ago. At one time, Gray's Reef was dry land!
History

- Gray's Reef National Marine Sanctuary was named in recognition of Milton "Sam" Gray, who studied the area in the 1960's as a biological collector and curator at the University of Georgia Marine Institute on Sapelo Island, GA.


The near-shore hard-bottom reef off the coast of Sapelo Island was recognized by Sam Gray in 1961 in connection with his extensive biological surveys of the ocean floor off the Georgia coast. Collections made during the surveys are under the protective supervision of the University of Georgia Natural History Museum and maintained as the "Gray's Reef Collection".

In 1974, Jesse Hunt, a graduate student working under Dr. V. J. Henry was the first scientist to study the reef. He proposed the name "Gray's Reef" for this live-bottom habitat to commemorate Sam's valuable contribution to the understanding of offshore habitats and marine organisms, especially those of the near-shore continental shelf of Georgia.

The Georgia Department of Natural Resources submitted a nomination to the Secretary of Commerce in June 1978 recommending the designation of Gray's Reef as a marine sanctuary. Milton "Sam" Gray biography. Gray's Reef was made an Active Candidate for Sanctuary Designationin in1979. Final designation as a National Marine Sanctuary came January 16, 1981.
Resources

- Gray's Reef is a consolidation of marine and terrestrial sediments (sand, shell, and mud) which was laid down as loose aggregate between 6 and 2 million years ago. Some of these sediments were probably brought down by coastal rivers draining into the Atlantic and others were brought in by currents from other areas. More of these sediments accumulated until a dramatic change began to take place on Earth during the Pleistocene Epoch, between 2 million and 8,000 years ago.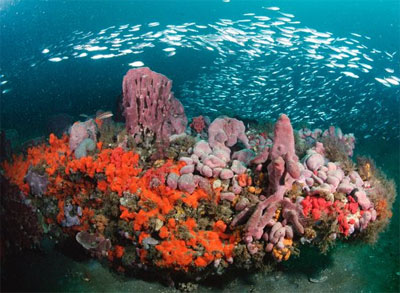 It was during this time that the area which is now Gray's Reef was exposed land and the shoreline was as much as 80 miles east of its present location. As a result of this exposure, the sediments there became solidified into porous limestone sandstone rock. As the glacial ice melted, the water flowed back towards the sea, filling the basins back to their original levels.

Gray's Reef is a submerged hard bottom (limestone) area that, as compared to surrounding areas, contains extensive but discontinuous rock outcropping of moderate ( 6 to 10 feet) height with sandy, flat-bottomed troughs between. The series of rock ledges and sand expanses has produced a complex habitat of caves, burrows, troughs, and overhangs that provide a solid base for the abundant sessile invertebrates to attach and grow.

This rocky platform with its carpet of attached organisms is known locally as a "live bottom habitat". This topography supports an unusual assemblage of temperate and tropical marine flora and fauna. Algae and invertebrates grow on the exposed rock surfaces: dominant invertebrates include sponges, barnacles, sea fans, hard coral, sea stars, crabs, lobsters, snails, and shrimp.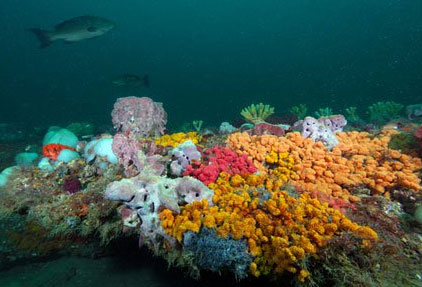 The reef attracts numerous species of benthic and pelagic fish, including black sea bass, snapper, grouper, and mackerel.

Since Gray's Reef lies in a transition area between temperate and tropical waters, reef fish population composition changes seasonally. Loggerhead sea turtles, a threatened species, use Gray's Reef year-round for foraging and resting and the reef is part of the only known winter calving ground for the highly endangered northern right whale.

Fossil bivalves and gastropods , and mastodon bones located in this area indicate that the reef was once a shallow coastal environment and an exposed land form as recently as 10,000 years BP. As a terrestrial environment there may exist at Gray's Reef extant prehistoric cultural resources.
Recreation

- Gray's Reef is one of the most popular spots off the Georgia coast for recreational fishing and diving. The sanctuary is only accessible by private boat. The Sanctuary does not run boat tours, fishing trips or dive trips. However, independent boat operators run fishing trips and dive trips to the Sanctuary. Gray's Reef does not make recommendations.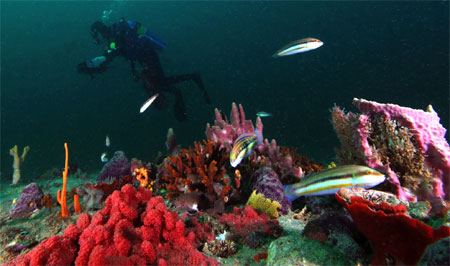 Sport fishing occurs year-round but at different levels of intensity. Fishing for pelagic species such as king mackerel is one of the most popular activities; sport fishing tournaments sponsored by private fishing clubs and marinas take place in the spring and Gray's Reef is a popular destination for participants.

When the new regulations become effective on February 16, 2007, only specific types of fishing gear will be allowed (i.e. rod and reed, handline, and spearfishing gear without powerheads) at Gray's Reef. It will also be against regulations to drop an anchor in Gray's Reef except during an emergency. See the regulations section for details.

Gray's Reef is an open ocean environment; divers encounter strong currents and occasionally low visibility. Temperatures vary by season and range from 50° F (10°C) to 80°F (26°C.).

Pelagic bird watching at Gray's Reef is growing in popularity. Some of the species seen in the Sanctuary include true pelagic birds - birds like shearwaters, petrels and bridled terns that spend their entire lives at sea except when they nest or are blown inshore during heavy storms-- as well as seabirds like gulls and royal terns that forage at sea but return regularly to land.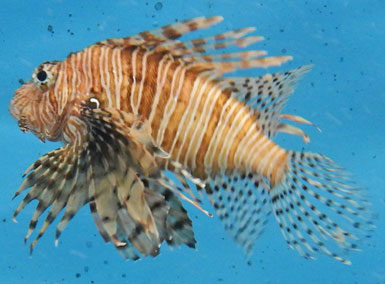 Stash Your Trash - It is illegal to deposit any trash in the sanctuary. Fish or fish parts, bait or chumming material are the only acceptable disposables.

You can make a big difference by picking up plastic you see floating in the water. Birds, fish, mammals, and sea turtles can get entangled in plastic items or mistake them for food, and may die of starvation or poisoning when plastic is in their stomachs. Plastic debris in the water can also foul propellers and clog or damage engine intake systems. Sea birds, sea turtles and marine mammals can get entangled in monofilament line, do not discard it in the water.

Participate in beach clean-ups and leave the beach clean after your visit. Please help remove cans, bottles, plastics and all other trash from the marine environment by always stowing your trash for disposal in port.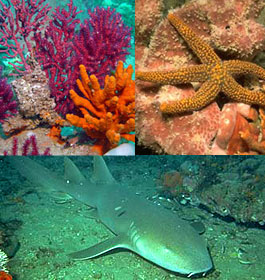 Spills and Discharges - Fish, birds, and mammals are especially sensitive to even small amounts of toxic compounds in oil, fuel, and other petroleum products. You can help protect fish and wildlife by preventing fuel spills and bilge oil discharge. Put absorbent pads in your bilge and wipe up any spills quickly. Use absorbent pads, not detergents to clean spills. Report spills you see to the Coast Guard's National Response Center at 1-800-424-8802.



Watch Out For Divers

- The Sanctuary belongs to everyone. Recreational anglers share the waters with both recreational and working divers. Sanctuary staff and visiting scientists regularly conduct dive operations. Be on the lookout for boats flying dive flags - a red flag with a white bar at an angle - and keep at least 100 yards away - the length of a football field.
Contact - Website & Location
Phone

: 912-598-2345 - Sanctuary Superintendent - Address: 10 Ocean Science Cir, Savannah, GA 31411 -

Grays' Reef Website
Loading


Colonial Coast GA Travel Region Printable Map

GA Coast & Islands Fun:

Festivals & Events

Free Outdoor Activities

Tourist Centers

Travel Region Info