This is one of my favorite places to visit in Savannah. This intriguing cemetery is loaded with historical graves and markers for people who initially formed Georgia into what it is today. It is approximately 6 acres in size and is located in the heart of Savannah's Historic District. The park-like cemetery has been closed to interments since 1853 and is the oldest intact municipal cemetery in Savannah.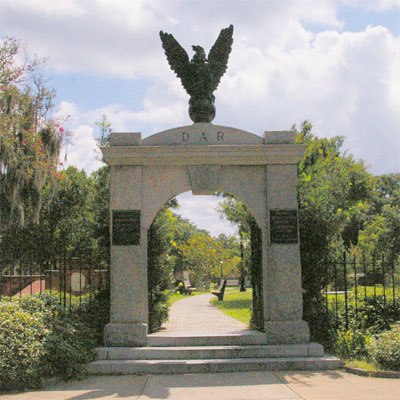 Previously known as the Old Cemetery, Old Brick Graveyard, South Broad Street Cemetery or Christ Church Cemetery, the cemetery served as the primary public cemetery from 1750 to 1853.

Colonial Park served as Savannah's cemetery for more than a century and contains over nine thousand graves. Established in 1750, by 1789 it had been expanded three times to reach the current size of six acres.

Other than the small plots of land set aside for the burial of 'strangers', Jews, and Negroes, nearly everyone who died in Savannah Georgia between 1750 and July 1st, 1853 was buried here. The cemetery closed in 1853 after becoming so crowded and unkept that citizens petitioned for a new place to bury their dead.
The city then developed plantation land into Laurel Grove Cemetery, and at about the same time Bonaventure and Cathedral cemeteries were established. Some families with burials in Colonial Park moved the remains of their loved ones to these new cemeteries.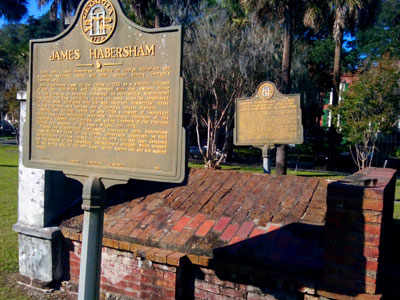 The old cemetery continued to deteriorate during the second half of the 19th century. Proposals to build a courthouse or run streets and a railroad through it threatened its existence. When the City of Savannah Georgia decided to tear down the surrounding wall, Christ Church sued to save it. The city won the law suit and demolished the wall. However, the judge also ruled that the city was to protect the gravemarkers and convert the old cemetery to a park. The Park and Tree Commission began to beautify the spot in 1896.

Markers placed by the Georgia Historical Commission stand beside a number of graves. These describe important events or individuals who contributed to the state's history. Yet, it is important to remember that everyone buried here was important in the development of Savannah Georgia, This brief guide tells only a few of those stories. Additional information about the cemetery is located at the Georgia Historical Society on Whitaker Street.

It is open to pedestrians from 8 a.m. to 8 p.m. daily and is a very popular site for local citizens and tourists.

It is a public cemetery and there is no admission fee.





Phone:

912-651-6843 -

Address

: 201 Abecorn Street., Savannah Georgia 31401
Loading


Colonial Coast GA Travel Region Printable Map

GA Coast & Islands Fun:

Festivals & Events

Free Indoor Activities

Free Outdoor Activities

Tourist Centers

Travel Region Info