Plant Collections
Enjoy this scenic 52 acre botanical garden. Sign-in at the Visitor Center and pick up a self-guided tour map.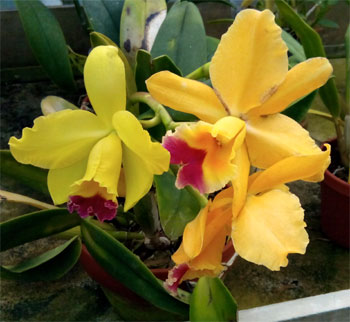 The most historically significant plants at CGBG are the bamboo groves, primarily those planted by USDA plant explorers prior to 1945. Numerous hardwood trees planted in the 1920s remain, many rather rare species even in today's horticultural standards.

Other substantial plant collections include palms – the largest outdoor palm collection north of Florida – that are cold hardy to at least 15°F. Moreover, over 900 camellia plants fill the Judge Arthur Solomon Camellia Trail, including several camellia species not commonly seen outside of their native China.

Daylilies, landscape/shrub roses, bearded irises and aquatic ornamentals are showcased in garden beds. Various hardy tropical plants grow across the grounds, too. Areas of note include the Cottage Garden, Xeriscape Garden, Water Garden, Shade Garden, Organic Vegetable Garden and expansive Bamboo Maze with three-story lookout tower.

The Garden for All Abilities facilitates gardening activities for people with physical disabilities.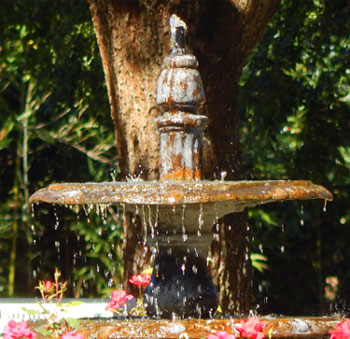 Pick-Your-Own Fruit Fields

- About three acres at CGBG are dedicated to berry fields, which produce operating revenue for the site. Strawberries are in season from mid-March to May, blackberries from mid-May to July, and blueberries in mid-June through July. Precise times for harvest vary annually based on spring and early summer weather conditions.



Special Events

- Several vanguard events are held at CGBG annually. The Spring Festival and Plant Sale occurs either in late March or early April. The Fall Family Festival happens each October. The year ends with December Nights & Holiday Lights, a nighttime event showcasing the gardens illuminated with hundreds of thousands of lights. The Wild Game and Strawberry Suppers are popular, unique social events scheduled in late winter and mid-spring, respectively.



Garden Etiquette

- Please remain on walkways, roads or grass during your visit. Do not step in planting beds as it damages plants and drip irrigation systems. Photographers and their subjects must also remain out of any planted garden area. Do not pick flowers, fruits or leaves of any plant. Do not manipulate plants when taking photographs. Please keep your pets at home.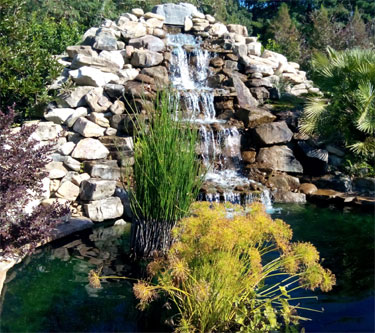 Garden History - Once the farm of Mrs. H.L. Miller, this property's modern history began when she planted three clumps of Japanese timber bamboo in the late 1880s. By the turn of the century, the bamboo had grown into an impressive grove. To save the bamboo and farmstead, Dr. David Fairchild – the famed American plant explorer, botanist and manager with the U.S. Department of Agriculture in Washington, D.C. – was petitioned for help. In 1919, Fairchild's wealthy friend, Barbour Lathrop, purchased the farm for $5,000 and leased it back to the USDA for $1. The property became a plant introduction station for bamboo and other plant species imported from eastern Asia. Locals soon referred to the station simply as "the Bamboo Farm."

By 1979, federal funding for the USDA station dried up. In 1983 it was deeded to the University of Georgia. Soon renamed "Bamboo Farm and Coastal Gardens", it was a regional research and education center for the Cooperative Extension Service. Today, it's known as the Coastal Georgia Botanical Gardens. A master plan guides current expansion of gardens and hardscapes, and supplemental support for the botanical garden's development comes from the non-profit group, Friends of the Coastal Gardens.
Visitor Info
Amenities:

Free parking on site

, public restrooms, vending machine, rental facilities, lecture hall



Open:

M-F 8 am to 5 pm; Sat. 10 am to 5 pm; Sun. 12 noon to 5 pm. Closed major federal holidays and the week between Christmas and New Year's Day.

Admission cost is $3 for ages 6-16 and $5 for ages 17 and up. Free admission for children ages 5 and under.



Phone:

912-921-5460 - Please call ahead to reserve a tour for groups of 10 or more.



Address

: 2 Canebrake Road, Savannah Georgia 31419 -

Directions

: Take I-95 to Exit 94, east on the Abercorn Expressway to U.S. 17 (Coastal Highway) south. Turn right on Canebrake Rd. to our entrance on the right. Bamboo and Coastal Garden Website - Gardens Facebook Page
Loading


Colonial Coast GA Travel Region Printable Map

GA Coast & Islands Fun:

Festivals & Events

Free Outdoor Activities

Tourist Centers

Travel Region Info