Many famous Macon citizens rest here, including Civil War soldiers and Southern rock 'n' roll legend Duane Allman.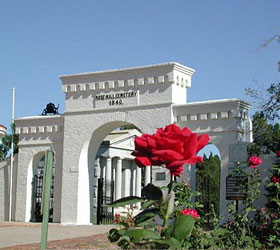 Rose Hill Cemetery was founded in 1840 on 65 acres of land nestled next to the Ocmulgee River on the north side of Macon Georgia.

The cemetery serves as the final resting place for thousands of people.There are over a thousand confederate soldier graves located in the cemetery; there are also graves for three GA governors, 31 mayors, and several senators/congressmen. Several notable entertainers are also buried in the cemetery.

The cemetery is presently owned and maintained by the City of Macon Georgia. It is the oldest and the largest of all 33 cemeteries located within the city.

The cemetery is part of a self-guided walking tour of Macon and is the site of the bi-annual Rose Hill Ramble sponsored by the Middle Georgia Historical Society.

Rose Hill Cemetery is one of the few cemeteries on the national Register of Historic Places, due largely to the continuing effort of Mr. McKay who was the guiding light of the society for so many years. This is Macon's third cemetery.

The first, across the Ocmulgee River near fort Hawkins, known as Fort Hill Cemetery. Then when Macon Georgia was founded on this side of the river in 1825 a plot was set aside on Seventh Street, now in an industrial area.
The town grew and the mayor and council decided another burying ground was needed so a committee was named consisting of Simri Rose, Jerry Cowles, J. Williams, and Isaac Scott. They
selected this spot, approximately sixty-five acres "above the city on the banks of the Ocmulgee",
to quote the history books, and set about planning the carriageways, plots, and planting many
trees and shrubs, some of which were imported.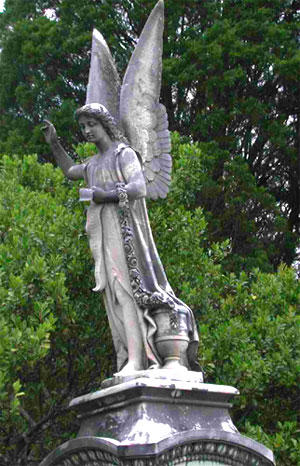 Mr. Simri Rose was most active in this work and patterned the cemetery after Mount Auburn in Massachusetts, a garden-type cemetery. Some of his trees are still here and we can assume that he planted the two great Cypress trees down near the College Street entrance.

Because of his great contribution, mayor and council voted to name the cemetery for him, calling it Rose Hill, and gave him his choice of lots. He selected a spot down near the river which you will see on more than one of these tours. Bear in mind, the railroad did not come through for many years after the cemetery was founded. I doubt he would have selected that spot had he known. The terraces you will see throughout Rose Hill are reminiscent of northern Italy.

There are three governors, two United States Senators and a Congressman and at least 31 city mayors buried here. There is a section devoted to the graves of some 600 Confederate soldiers who died in this area; there are six Hebrew burial plots; St. Joseph Catholic Cemetery is also within the confines of Rose Hill.



Amenities:

Accessibility for mobility-impaired.

Free parking.





Phone:

478-751-9119 or 478-742-5084

- Address:

1071 Riverside Dr, Macon Georgia 31201 - Rose Hill Cemetery Website


Print a Travel Region Map

Historic Heartland Fun:

Festivals & Events

Free Indoor Activities

Tourist Centers

Travel Region Info