This myserious 5000 year old hawk-shape monument is the centerpiece of 15 miles of education and recreation trails. This display covers 12,000 years of nature and history.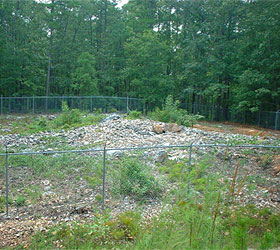 The Rock Hawk Effigy is similar to the well established Rock Eagle mound at the 4H Center on Route 441 between I-20 and Eatonton Georgia.

Rock Hawk is still under development as a tourist site. The project is being carried out as a Route 16 Scenic Byway project and involves a number of organizations, among which are UGA and Georgia Power. By late 2006 the area will become a 700 acre outdoor museum with the 5000 year old Effigy (date speculative), 18th century remains, plus 15 miles of trails, an interpretive center and a viewing platform for the Hawk.

Directions: In order to see Rock Hawk and the surrounding area, take Georgia State Highway 16 East from Eatonton towards Sparta. Take a left at the Wallace Dam Road, where you will take another left turn at the sign for the Lawrence Shoals Recreation area. Part way along this road you will see signs for the Rock Hawk trails, and off to your left (past the old cemetery) you will see the beginnings of the parking area for Rock Hawk. Turn into this parking area and continue along the gravel road to see the Hawk effigy, surrounded by a chain link fence.
What does the Hawk look like? Well right now it looks like a pile of rocks! When the viewing platform is built, it will transform into the shape of a Hawk, 120 ft long by 130 ft wide Both the Hawk and the Eagle mounds are believed to be have been used in some kind of ceremonial manner by the Indian tribes who inhabited the Oconee river area many thousands of years ago.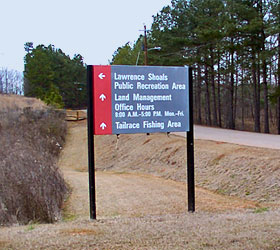 Artifacts from these early tribes have been traced back as far as 10,000 years ago! It is speculated that at least 250 archeological sites are now under water since the Wallace Dam was built and the area flooded in 1979.

Also in this area are some later historic sites. There is the remains of an old homestead and a wonderful 19th century walled cemetery that contains the family gravestones of Kinchen Little. Mr. Little was an early owner of most of the land where the Wallace Dam is now. He was one of the original families involved with the building of Rockville School, which is listed on the National Register of Historic Places.

Putnam County is in the process of developing the area around the Rock Hawk Effigy near Wallace Dam. Visit website more pictures and a representation of the trails being developed around an early Indian Effigy known as Rock Hawk.



Amenities:

Restrooms and Accessibility for mobility-impaired.

Free admission and parking.





Phone

706-485-7701

Address

Lawrence Shoals Rd, Eatonton, GA 31024 - Rock Effigy Website


Print a Historic Heartland Travel Region Map

Historic Heartland Fun:

Festivals & Events

Free Indoor Activities

Free Outdoor Activities

Tourist Centers

Travel Region Info