It seeks to preserve and share the history of Richmond Hill and Bryan County, Georgia. To this end, the society operates a museum with displays covering the Colonial era, Revolutionary War, Civil War, and time of Henry Ford.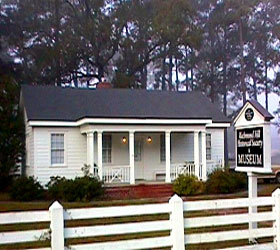 The museum is located in a structure which previously served as the Henry Ford Kindergarten. This school was run by Ford (1863-1947), father of mass production, and his wife, who wintered in the area.

Our objective is to serve the people by exposing them to knowledge of the early development of Bryan County and the heritage of Richmond Hill and Bryan County.

Our goal is to encourage the continued expansion of economic opportunities and tourism in Bryan County and to encourage the historic preservation of artifacts, architecture and sites in the Bryan County area.

Membership is open to any person, partnership, firm, association, club or corporation interested in helping attain our goals.

Membership fees are $30 per family, $20 per individual or $10 per student or senior (over 60).

Meetings are held the first Thursday of each month at 7pm at The Wetlands Center in J. F. Gregory Park. Each month a different program is presented such as local authors, historians, films, etc. May and December meetings offer even more, most recently, a low country boil.

Tours are available. Cost is $6 for adults 18 and older.

Free for visitors under 18 years of age.





Amenities:

Parking, Public Restrooms and Accessibility for mobility-impaired.
Visit the Henry Ford Kindergarten now the The Richmond Hill Museum.
The school was a voluntary project of Mr. and Mrs. Henry Ford, who had a winter home, here in Richmond Hill. The Fords ran this school because the local school system made no provision for pre-school education at that time. It is now the Richmond Hill Historical Society's Museum.

Displays of the Colonial Era, Revolutionary War Era, Civil War Era and the Henry Ford Era are located here. The building is currently owned by Magnolia Manor. They have graciously allowed the Historical Society to use the building for their meetings and museum displays.
Hours of Operation
Open Tuesday through Saturday, from 10 am to 4 pm. Closed on Holidays.
Contact - Address, Directions & Website Link
Phone:

912-756-3697 -

Address:

11460 Ford Ave., Richmond Hill Georgia 31324 - GPS Location: 31° 56.667′ N, 81° 18.583′ W -

Directions

: From I-95, take Exit 90 and travel east on Ga Hwy 144. The museum is on the right hand side on the corner of Ford Ave and Timber Trail Rd. Visit the Richmond Hill Museum Society here.


Colonial Coast GA Travel Region Printable Map

GA Coast & Islands Fun:

Festivals & Events

Free Outdoor Activities

Tourist Centers

Travel Region Info