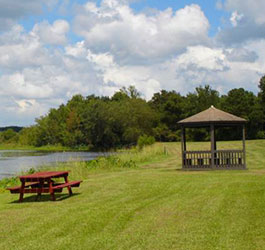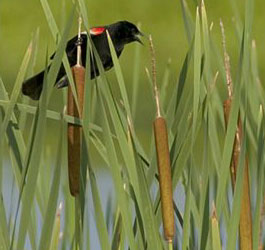 This 1613-acre Georgia park has an abundance of wildlife, particularly gopher tortoises and buzzards. During winter, 1000s of large birds, which are black and turkey vultures, roost in trees and soar overhead. Yearlong, gopher tortoises may be seen digging their dens in the sandy soil. Alligators, bald eagles, the rare limpkin, herons, indigo snakes and many other species live in this protected Georgia state park.

Park Amenities & Activities:

46 tent, RV and trailer campsites - cable TV hookups, 18 sites with sewage hookups

1 Pioneer Campground

Campground Notice: We now have 18 full hook-up sewer sites, plus a paddle-in campsite on a small island.

4 group shelters that seat 50 - 120 people

7 picnic shelters

Playground

Miniature golf

375-acre lake

3 boat ramps

Accessible fishing pier for bass, crappie, catfish and bream fish

Canoe and Kayak Rental -- Park Paddlers Club

Pontoon Boat Tours (fee, call for schedule)

Swimming Beach at Lake

Beach Pavilion

Birding -- "Buzzard" viewing is best in the morning and late afternoon. Best locations are near the bridge and dam in the morning and along the nature trail boardwalk near dusk.

Bicycle and Street Strider Rentals

7 miles of hiking trails

Lots of wildlife

Ranger Programs & Homeschool Programs

GeoCaching
Picnic Shelters

Picnic Shelter #2 - Open-sided covered shelter, located near the lake and beach. There are no restroom facilities nearby.



Picnic Shelter #3

- Open-sided covered shelter, located near the Trading Post shelter. Located near restrooms, boat ramp, and office. Has a fairly large field behind it.



Picnic Shelter #4

- Open-sided covered shelter located near restrooms,ballfield, playground, mini golf, campground, and nature trail. View of lake.



Picnic Shelter #5 - Open-sided covered shelter, located near restrooms, ballfield, playground, mini golf, campground, and nature trail.



Picnic Shelter #6

- Open-sided covered shelter, located near the campground and nature trail. Not to restrooms.



Picnic Shelter #7

- Open-sided covered shelter, located next to group shelter #4 and near playground, restrooms, mini golf, campground, and ballfield.



Note:

All picnic shelters have water, electric, lights, and grills.
Campgrounds

Campsites with Electricity - 50 foot campsites hold the following equipment: 1 tent, 2 tents, a pop-up trailer, a trailer up to 50', or a motorhome up to 50'. Each site has water, 30 amp electrical service, cable hookup, picnic table, grill, and fire ring. The comfort station has washer/dryer. Maximum 6 people per site. Maximum 2 vehicles per site.



Pioneer Campsites

- These are primitive, rugged sites for groups of at least 15 persons. The sites are located by themselves. Site has pit toilets, picnic tables, grills, and fire rings but no shelter, water, or electricity.
Group Shelter

Group Shelter #1 - End shelter. Known as the Family Shelter. Located near the lake. It is fully end and has heat/AC. Kitchen/food prep area separate from the main assembly area. Handicapped accessible restrooms. Has a fairly large field and a boat ramp.



Group Shelter #4

- End shelter. Known as the Playground Shelter. Located on the Cook County side of the park. Located next to Picnic shelter #7, behind playground and mini golf. Has water but no appliances. Fairly to ballfield, restrooms and campground.
Hours and Fees
Park Hours

- 7 am - 10 pm -

$5

Parking Fee
Contact, Address and Driving Directions Info
Park Phone -

229-896-3551 at 8 am - 5 pm -

Campsite, Picnic Shelter and Group Shelters Reservations:

1-800-864-7275 -

Address:

542 Reed Bingham Road, Adel, Georgia 31620 -

GPS Coordinates:

N 31.161633 and W -083.538933 -

Located

6 miles west of Adel on GA Hwy 37 via I-75 Exit #39, and 14 miles east of U.S. Hwy 319 in Moultrie. Park Facilities Map
Reservations Cancellation Policy

Cancellation of a reservation must be made at least 3 days prior to the date of arrival in order to receive a refund. cancellation/handling fee per reservation will be charged. Changes in arrival date made less than 3 days prior to the scheduled arrival will constitute a cancellation and forfeit of the deposit. 7-14 day Cottage Reservation Guidelines: All cancellations received 30 days in advance will receive deposit refund minus a cancellation fee per facility.



If a customer requests to cancel less then 30 days in advance but before 72 hours of arrival, the customer may request refund in witting to the site. If cottage is rebooked for the time period originally reserved, site will have Customer Service issue a full refund to the customer minus a cancellation fee. If reservation is cancelled within 72 hours of arrival date no refund of the one night deposit will be given. Deposits are required for all reservations. Credit card deposits are posted when the reservation is made.

Check-in - Check-in is between 1 pm and 10 pm and check-out is before 1 pm. Campers must register and present a reservation confirmation before setting up. If you do not arrive on the first night of your stay, you will be counted as a no-show, your reservation will be cancelled, and you will forfeit your deposit.



Reservation Changes

(Changes in arrival dates, transfers, etc.)
You may make one change without a charge, provided a 3-day notice is given. Additional changes will incur a per reservation handling fee.
Loading

Visit:

State Park Waterfalls

State Park Fishing Tackle Loaner, Free Park Pass Loan and Jr. Ranger Gopher Badge Programs

Walk on the Wild Side