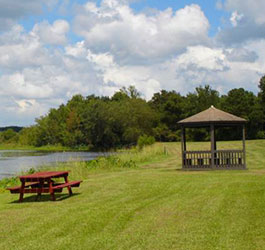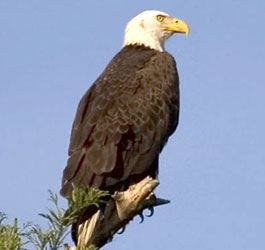 Private islands are usually reserved for the rich, but with the opening of a new campsite in south Georgia, anyone willing to paddle a canoe can stay overnight on their own small island.

Reed Bingham State Park near Adel has recently opened a primitive camping area on Eagle Island, a small tract of land in the middle of the park's 375-acre lake. Campers reach the island by paddling just 15 minutes from a dock. Visitors can either rent canoes and kayaks from the park, or they may bring their own.

"We are excited to offer the first private-island camping in a Georgia State Park," said Park Manager Suzanne Passmore. "It's large enough for big families or scout groups, but couples can enjoy it as well."
Once setting up tents, campers can enjoy campfires, stars overhead and listening for wildlife. The island has plenty of trees and shrubs, offering shade and privacy from nearby boaters. Grills, picnic tables, a lantern post and pit privy are provided; however, campers must bring their own drinking water. The site will accommodate up to 30 campers.

"It's not unusual to see Bald Eagles or Great Blue Herons during the day," said Passmore. "You might even hear the bellow of alligators during mating season. At night, you can hear the jungle-like call of Moorhens or hoots from Great Horned Owls. This will be a great camping experience for those who truly enjoy nature."

Paddling has become more popular among casual outdoor enthusiasts, and many of Georgia's State Parks now offer canoe and kayak rental. The new Chattahoochee Bend State Park near Newnan offers paddle-in camping for those traveling down the river. Parks such as Sweetwater Creek and Crooked River offer ranger-led paddles throughout the year.

Reed Bingham State Park's new Eagle Island campsite rents for $60, and rental canoes or kayaks are $25 for the duration of stay. Reservations are required by calling 229-896-3551. Visitors can also enjoy fishing, a sand swimming beach, hiking trails, mini-golf, geocaching, bike rental, ranger programs and more. A modern campground with hot showers and sewage hookups is available to those who prefer more developed camping.
Hours and Fees
Park Hours

- 7 am - 10 pm -

$5

Parking Fee
Contact, Address and Driving Directions Info
Park Phone & Reservations -

229-896-3551 at 8 am - 5 pm -

Campsite, Picnic Shelter and Group Shelters

Address:

542 Reed Bingham Road, Adel, Georgia 31620

Located

6 miles west of Adel on GA Hwy 37 via I-75 Exit #39, and 14 miles east of U.S. Hwy 319 in Moultrie.
Loading

Visit:

State Park Waterfalls

State Park Fishing Tackle Loaner, Free Park Pass Loan and Jr. Ranger Gopher Badge Programs

Walk on the Wild Side